APT Commended for CPD by the Science Council
Gemma Norburn RSciTech MAAPT has been recognised in the Science Council's CPD Awards, receiving a commendation in the RSciTech category
The Science Council's CPD Awards celebrate outstanding professional development in science. The awards showcase the achievements of registrants across the four Science Council registers: Registered Science Technician (RSciTech), Registered Scientist (RSci), Chartered Scientist (CSci) and Chartered Science Teacher (CSciTeach).
The nomination period for 2022 was open from 25th May until 17th July. Entrants had to submit a record of their CPD activities throughout the previous 12-month period.
The submissions were then judged by a trained panel of CPD assessors, who shortlisted 24 individuals that then went through to the final round of judging. A winner was selected for each of the registers and commendations were awarded where the judges wished to recognise outstanding examples of CPD and reflective practice.
Gemma was invited to attend the CPD Awards ceremony to be presented their award with an audience of Science Council membership representatives, CPD Award Judges and their peers.
The ceremony was held on 21st November at One Birdcage Walk in London and formed part of the Science Council's Celebration of Science evening reception alongside the Sir Gareth Roberts Lecture. This year's speaker was Professor Dame Ottoline Leyser, Chief Executive of UK Research and Innovation (UKRI). Her chosen lecture topic was "Powering the future: a research and innovation system for the 21st century".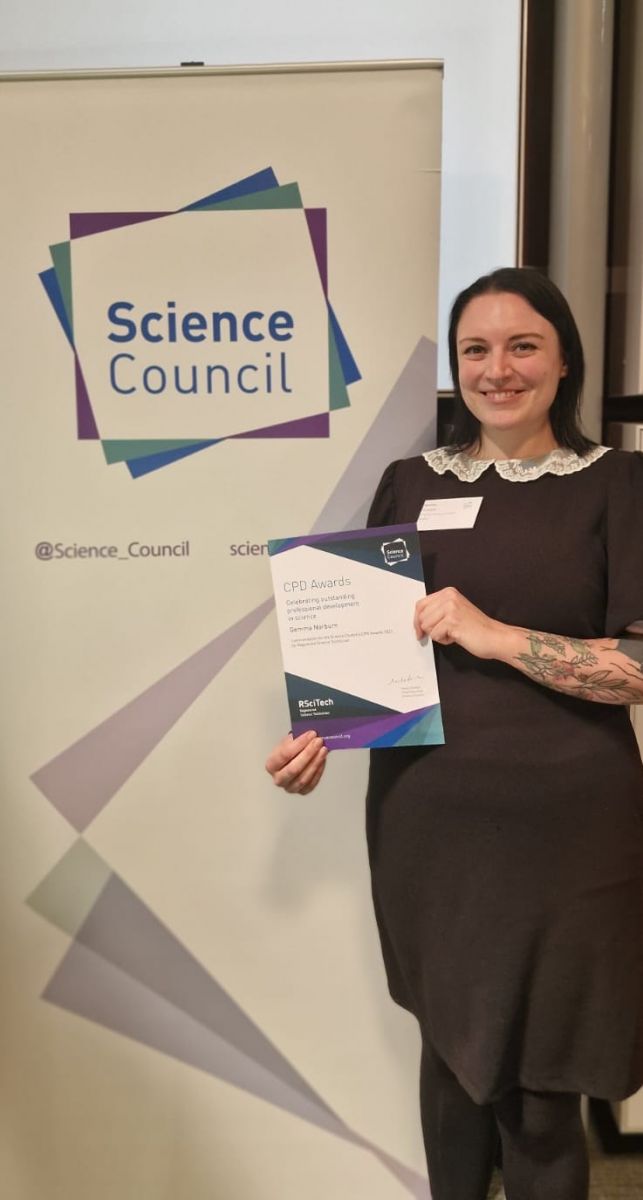 Christian Burt, Secretary to the AAPT Council, commented; "this is only the second year that Anatomical Pathology Technologists were able to access the CPD award nomination process and it is fantastic that Gemma has been commended. Gemma is clearly committed to self-improvement through use of the AAPT CPD Portfolio and I encourage AAPT members to apply for the Science Council registers and follow this example"
Gemma on her achievement: "I'm really pleased to be able to accept commendation for my CPD in 2022. My aim in applying was to highlight the importance of CPD to other APTs and to show how much this is respected amongst the science community. Plus, I wanted to demonstrate to others how simple it can be to record our CPD activities and showcase our expertise"
About the AAPT and Science Council
The AAPT is proud to be one of first professional bodies to hold a Development Licence with the Science Council to offer professional registration.
Registration with the Science Council enables those eligible AAPT members to publicly demonstrate their commitment to professional standards, the APT profession and to use the designatory letters after their name – RSciTech, RSci or CSci.