AAPT Conference 2018 - morning report
AAPT Conference 2018 was the best attended to date, with amazing delegate feedback.
Student member Ellen Vincent-Shaw gives a report on the morning session
London was calling this year for the 14th annual conference and what better town for the APT event of the year to take place, than the home of the AAPT itself!
A short taxi ride away from the associations' offices in Coldbath Square, was where the Hundred plus APT's, trade and speakers gathered at the Regents Park Holiday Inn.
The morning session was chaired by Rebecca Haywood FAAPT and after a welcome to us all she introduced not one but two speakers for the first presentation.
HTA - Impact of revised HTA standards on inspection findings:
Kicking of the lectures this year were regulation managers, Jennifer Scherr and Dr Julie Edgeworth from the Human Tissue Authority. After a quick introduction and description of the role of the Human Tissue Authority, they got to the main body of their talk which was an overview of the shortfalls found whilst inspecting some of their 179 licensed Post mortem sector premises against their newly updated standards.
Julie and Jennifer reported on the HTAs findings using data from April to December 2017, particularly noting the types and numbers of shortfalls highlighted. Compared to the previous year, the HTA found that in 2017 there was a marked overall increase in shortfalls identified with regards to both quantity and severity. Jennifer and Julie gave us a few examples of specific recurrent shortfalls identified and these instances were followed up with what the HTA would expect the underperforming mortuary to do in order to reach full compliance. Subsequently, Julie and Jennifer went on to briefly talk about HTARIs.
These HTA Reportable Incidents are near misses and occurrences that establishments are required to report to the HTA. There are various types of HTARIs, which include removal or storage of tissues without consent, damage to a bodies and performing a post mortem on the wrong patient to name but a few. This talk received more questions than any other talk of the day and the first question asked was one I think everyone wanted to know the answer to; "why was such an increase in shortfalls found? Is it because of lower standards across mortuaries, or because of the newly revised and more prescriptive standards?" The answer given was that the HTA do not necessarily think the findings are due to a drop in our standards.
However, it actually says in the annual HTA review for 2017/18 that the HTA recognise that this increase in shortfalls is in part due to the new and more demanding standards that have been recently introduced. The talk finished with a reminder that the HTA's 2017/18 annual report is now available on their website.
Next up was Dr Michael Kim, an Emergency Department Consultant for the London Air Ambulance with, what I thought was one of the absolute highlights of the morning session.
London Air Ambulance - Operational Summary:
The charming Dr Kim eased everyone into his elucidation of what the London Air Ambulance does with a couple of hilarious and somewhat self -deprecatory anecdotes from his experiences going out to a scene with them. The conference room was near silent as he gave an incredibly insightful run down of the dispatch procedure and explained the three categories that would result in the London Air Ambulance being sent out to a patient.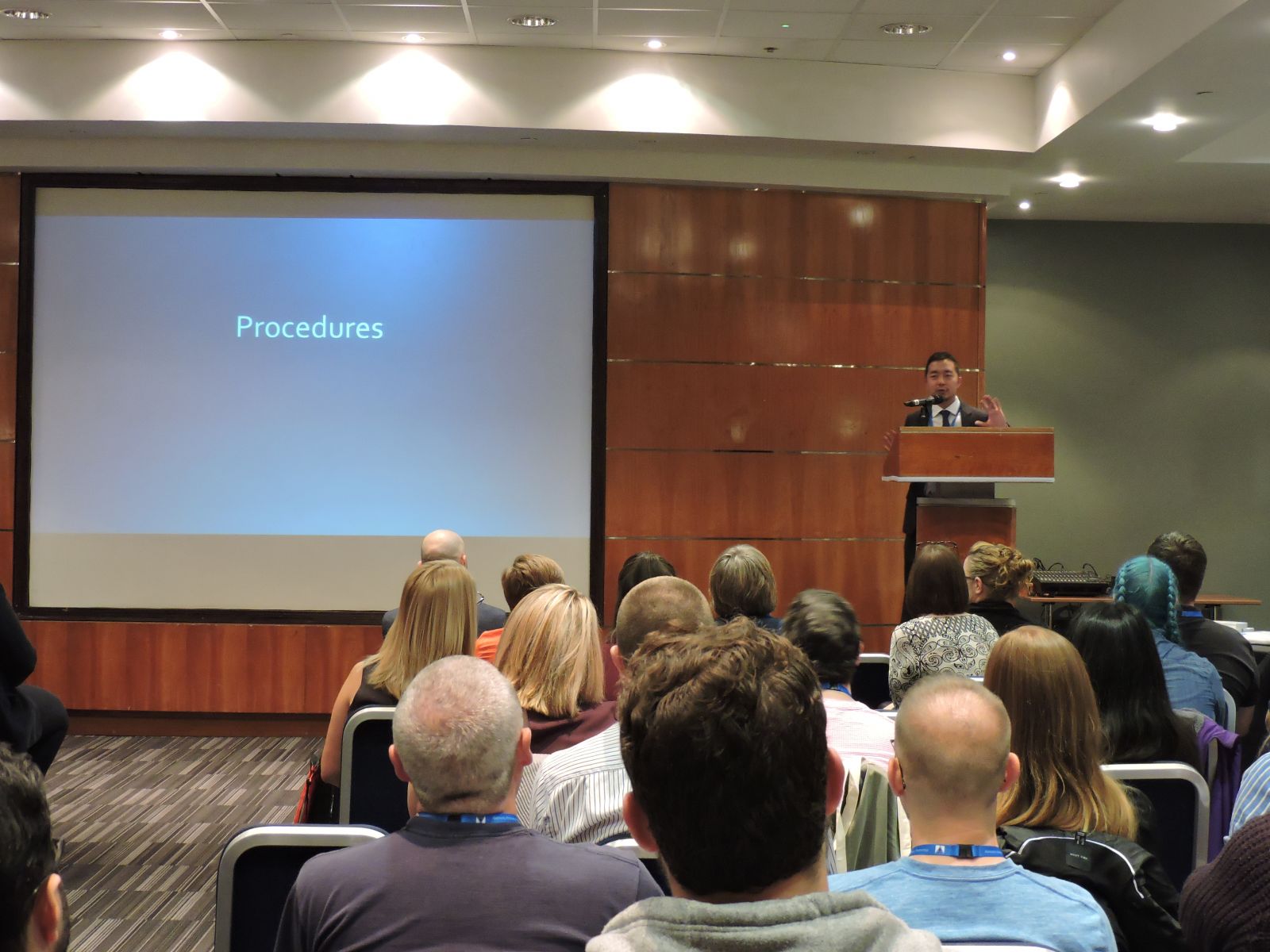 It was surprising to be told that the number of calls the air ambulance went out to in 2017 was just under 1800. Interestingly Dr Kim broke this figure down into categories, the most interesting being, the type of incidents those 1797 call outs were. A larger number than I would have thought were stabbings and shootings.
Dr Kim regaled us with thrilling personal stories of his time as a Doctor with the London Air Ambulance and littered amongst these tales were fact after fact about the service and work they do. I did not realise that the helicopter did not fly at night, but instead the medical crew would go out to scenes in cars that could be doing up to 70 mph in a residential area. Again this fact came with a side of light humour as he reminisced about having to ask for the ambulance car to stop so he could be sick at the side of the road due to the immense speed it was travelling at.
Dr Kim discussed the serious matters of considering which deaths were preventable and describing the method of routinely performed roadside Thoracotomies as well as the less frequent REBOA procedure, of which the London Air Ambulance were the first to have performed pre-hospital.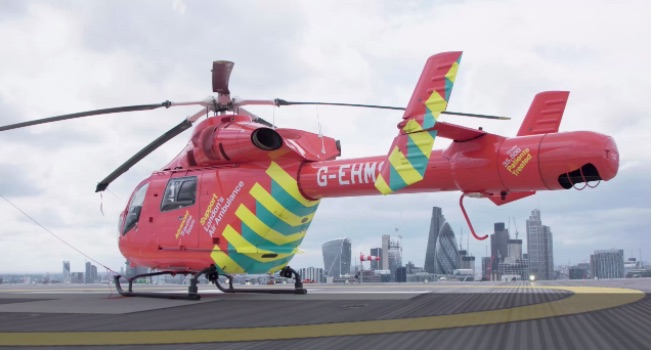 A Resuscitative Endovascular Balloon Occlusion of the Aorta (REBOA) controls and slows pelvic haemorrhage in trauma patients, an injury often sustained by cyclists of which there are quite a lot of in London! Towards the end Dr Kim posed the question, do we actually need a helicopter? I think his talk had us all entertained and thoroughly convinced that we definitely do need Air ambulances.
After a coffee & tea break and visit to the commeercial stands, taking to the podium next would instead be Dr Ciaran Hutchinson, an ST4 Paediatric and Perinatal pathologist at Great Ormond Street Hospital for Children.
Paediatric Imaging - Development of the minimally invasive paediatric and perinatal autopsy:
Dr Hutchinson's presentation was very interesting, both in terms of the topic and how far-sighted it was. For those of us who knew very little about paediatric and perinatal autopsies and the use of imaging to provide post mortem findings, his talk covered all the techniques being used today, recent developments that have occurred and potential future progress.
He talked us through a study that used minimally invasive techniques including post mortem MRI, micro-CT imaging and laparoscopic tissue sampling and removal on a range of patients including paediatric and perinatal case studies, before then carrying out traditional full post mortems to find out if the more conventional and invasive procedures yielded any further results compared to those of the less invasive methods. It is worth mentioning though that in real life cases the more intrusive examinations would still be guided by the MRI findings.
The results corroborated that, applied to paediatric and perinatal patients, a full post mortem didn't tell the radiologists and pathologists anything more than the scans could. Although Dr Hutchinson did note that the post mortem procedure will likely always require some form of invasive practice as histological samples are often needed, particularly in child cases. It is comforting however, to know that for families who are not comfortable with the thought of their child going through a full post mortem, post mortem imaging is an option that will still provide them, and in some cases the coroner with explanations.
Also talked about was ultrasound guided biopsies and Micro-CT, 3D X-ray imaging on a small scale but with much higher resolution. Of course as fantastic as these machines, techniques and their evolutions are, the introduction of them into hospitals widespread is not quite practical yet due to the cost and lesser demand for them. The use of imaging for post mortem investigation is on the rise however, and is very beneficial for medico-legal cases.
Dr Thivya Sekar rounded up the morning to a close with her talk
Meningitis - Meningitis in the mortuary:
Dr Sekar, a Consultant paediatric pathologist – gave her talk on Meningitis in the mortuary setting. The information she provided was focused on the types of meningitis, particularly the variations that could pose most risk for professionals involved with the patients' post mortem procedure, and also the possible need for staff prophylaxis.
She briefly described some differences between viral, bacterial and fungal meningitis, clarifying that fungal was the least common type, viral the most common and bacterial the most likely to be fatal to the patients and harmful to the professionals. Dr Sekar named the 5 main variations of bacterial meningitis before speaking about whether there was need for APT's to take prophylactic measures before carrying out the post mortem. Transmission of meningitis to mortuary workers is very rare but not impossible.
However as long as the patient was treated with an effective antibiotic for at least 24 hours before death, there should be no need for viewing relatives or anyone handling the patient after death to take prophylaxis. This lead nicely onto the concluding topic of PPE required for handling a deceased person with Meningitis. Dr Sekar listed the protective attire that should be worn, which apart from possibly a face mask and full visor instead of goggles, is exactly the basic PPE needed for any post mortem.
All that was left to do before breaking for lunch was for AAPT president and pathologist Dr Michael Osborn to award the newly qualified Anatomical Pathology Technologists that were present, with their well-deserved RSPH level 3 diploma certificates. Each in turn walkedup to the stage area to the sound of applause and gave a handshake and a smile to the camera before taking hold of the award they had worked so hard for.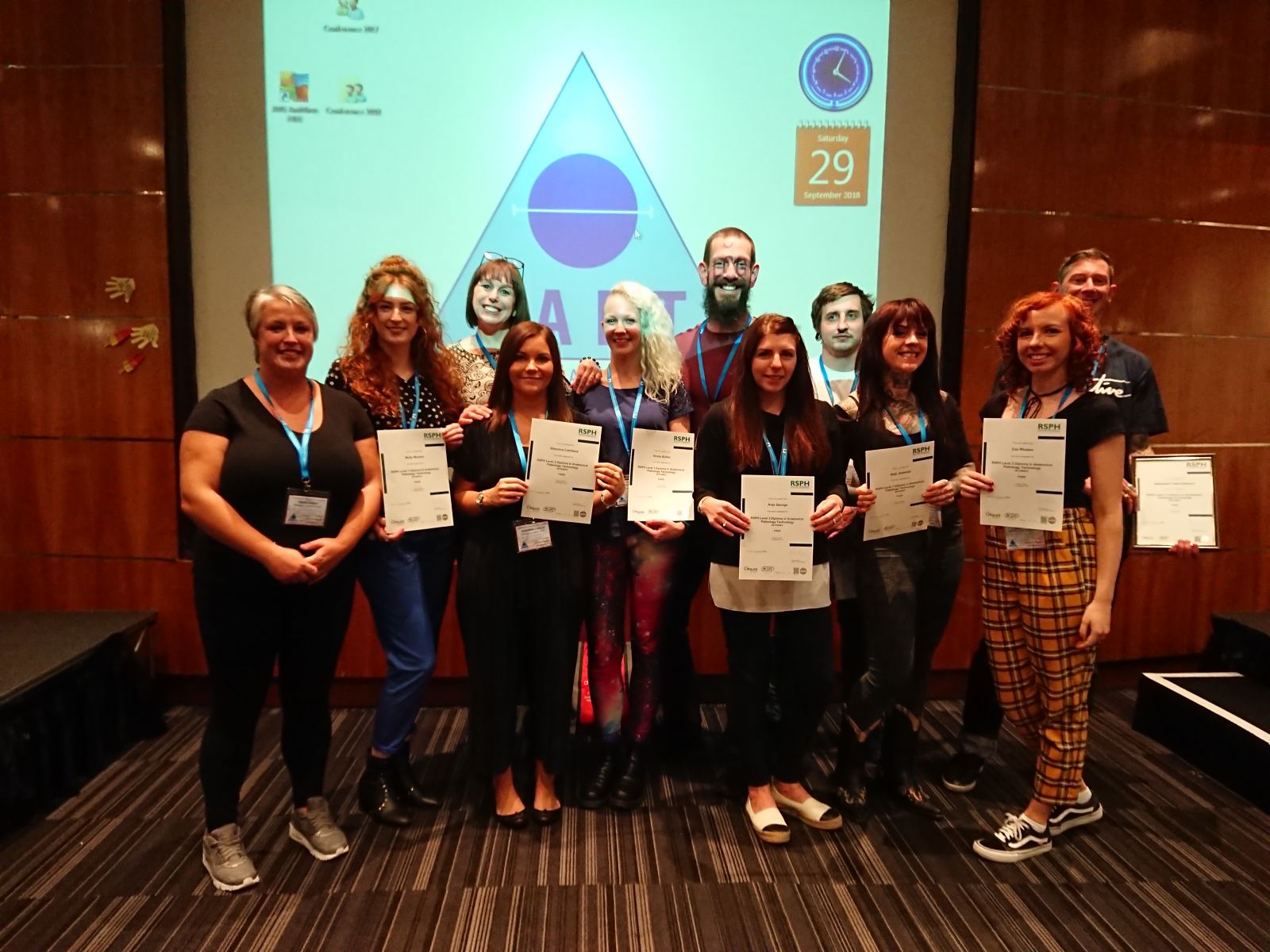 Congratulations guys!