Healthcare Science Week
Healthcare Science Week or, #HCSWeek17 as it is known by its social media hashtag, is an annual, week-long programme designed to promote the amazing work of healthcare science professionals and highlight the difference they make to patients' lives. AAPT Fellow David King reports on APT participation this year.
This year it ran from 10th March - 19th March 2017 in schools and hospitals all across the country.
Getting involved in an event that put Mortuaries and APTs on full show in the hospital didn't face the struggle I have come to expect. Granted, we were left out of the initial plans, but once I made a request to be included, we were welcomed with open arms.
The Biomedical Scientist leading our Trusts efforts had already secured a table and a backdrop from the charity, to be placed in the main atrium on full view for patients, visitors and staff.
It was to be hosted by a different speciality each of the weekdays of #HCSWeek17, so with 54 healthcare science specialisms to choose from, not only did I feel like the cat that got the cream, I felt I had this chance and I best not blow it.
We had a team discussion about what we wanted to achieve through this activity.
We all felt very strongly that the "Life of Grime" take on mortuary work and Anatomical Pathology had not only taken its toll, but that it had, had its day.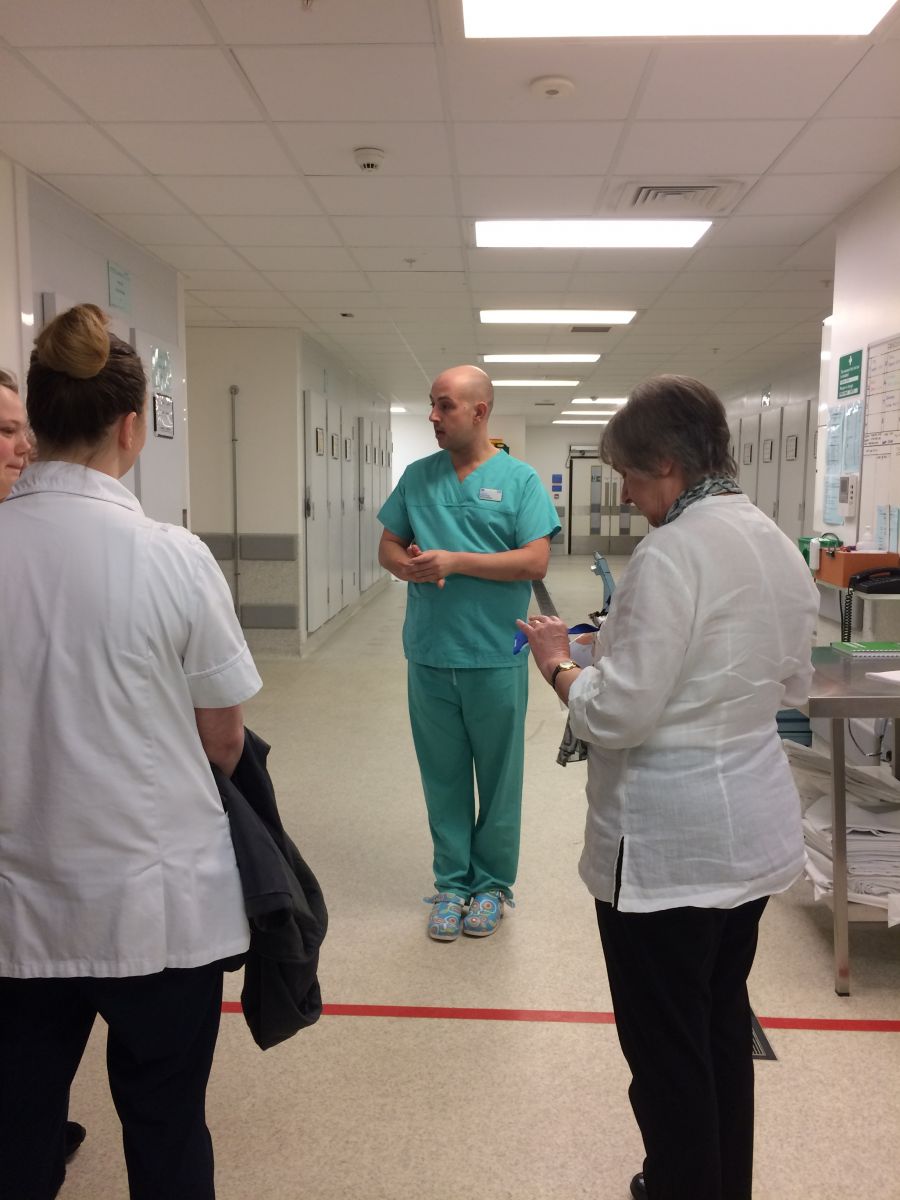 I was very careful not to insist upon a script, but we did decide to avoid going into detail about smells, sights and trauma, and focus on the care we provide to the deceased, and the bereaved after a death.
I asked our Medical Photographer if she would be able to help by taking some images that capture the essence of a mortuary.
She happily obliged and apart from the nice break from pressure sores, I think she enjoyed getting creative. I approved the digital images later that day and the next morning I had a nice pack of glossy images ready for display.
We searched the mortuary high and low for items that would attract attention, encourage conversation or create talking points. Apart from the usual array of specimen pots, we took the collars that maintain the natural position of the mouth whilst rigor mortis sets in. We spoke to lots of nurses that day and they were surprised by the array of options available to help achieve natural positioning after death.
I have now (finally) been invited to the "Trust End of Life Care" meeting to share my ideas on improving the practical aspects of "care after death" (formerly known as "Last Offices").
We were very well received in the hospital by all those we spoke to. We did speak to a lot of patients and visitors who had experienced bereavements in the past, some even in our hospital. Whilst listening to the stories being shared, we were also able to discuss the care they received as a bereaved person, get feedback on what they felt was important to them after someone they loved died.
This was a very nice way to reflect on what our service offers, and if it meets the needs of those that use it. As if I hadn't bitten off enough with the stand, I also agreed to a ten minute tour and discussion in our mortuary at 13:00 every day, as part of our "Pathology Laboratory Tours". The tour was to start with us, then go through various labs, including Blood Transfusion, Histopathology, Microbiology Cytology and Point of Care.
I thought summing up the mortuary environment and the role of the APT in 10 minutes was going to be a tall order, and I was right. I think I went on for an extra 5 minutes most of the days, much to the organisers distress, but I was not prepared to let visitors leave without getting the overview I had prepared.
On Thursday the IBMS (Institute of Biomedical Science) communications officer, Erin Johnson, came to the trust to do a write up on our week of events. She came to the mortuary tour, which on that day Kelly Lowe FAAPT was giving. Kelly was well received and was even quoted in the article "No one wants to talk about it, no one knows what to do about it. I just like to think I'm helping people". The article can be accessed here
The visitors ended their lab tour at the stand and completed a feedback form on the session. It was unanimous, all the visitors expected the mortuary to be dark, gloomy and mysterious. In fact, they found it to be clean, presentable, smelled wonderful and the staff to be clearly passionate and caring.
Co-incidentally I bumped into the organiser on the staff bus on the way home on the Friday. "You guys were great" she said with a smile. "Same time next year?" I replied inquisitively. "You are on" she said with a wink.
David King FAAPT