AAPT Conference 2017 - morning report
Laura Evans MAAPT has recently passed the Level 3 Diploma in Anatomical Pathology Technology and reports on the morning session in Cardiff
As a newly qualified APT, this was my first ever conference. I was very excited to mix and mingle with other members of the association. The whole day flew by so quickly!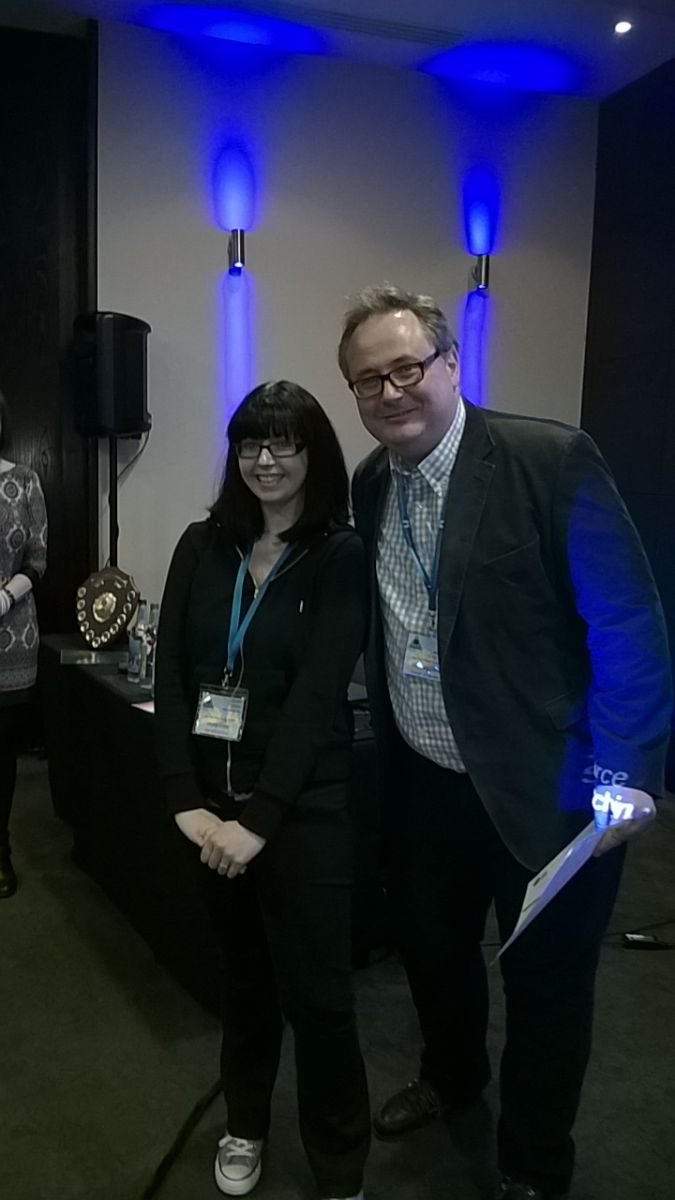 The morning session was chaired by Lisa Richardson MAAPT who began by breaking the ice with a few humorous Welshisms and welcoming us all to the conference.
CQC – A Guide to Inspection Preparation – Shane Mongor
Lisa then introduced the first speaker of the Morning who was Shane Mongor, an experienced APT/Mortuary Manager who took a sabbatical to become an inspector with the Care Quality Commission. His presentation took us through the five main inspection points:
Safe – Are people protected from abuse and avoidable harm?
Effective – Does people's care, treatment and support achieve good outcomes, promote a good quality of life, and is it based on the best evidence?
Caring – Do Staff treat people with compassion, kindness, dignity and respect?
Responsive - Are Services organised so they meet people's needs.
Well Lead – Does the leadership, management and governance of the organisation make sure the delivery of high quality person-centred care, support learning and innovation and promote an open and fair culture?
During the visit, the inspectors will speak to patients, staff and visitors, observe working practices, review documents and policies and check records. They will then compile a report which grades the establishment as either outstanding, good, requires improvement or inadequate.
Our Mortuary has recently been inspected, so it was interesting for me to understand more about what the inspectors are looking for. It was especially good to know that they can be challenged when they are demonstrating poor practices, such as not being bare below the elbow.
Tuberculosis and the Mortuary – Rebecca Bamber
The next speaker was Rebecca Bamber who is a microbiologist from Public Health Wales. She gave us an extremely informative and engaging presentation regarding the effect of Tuberculosis in the Mortuary.
Starting out with a series of photos showing the misconceptions about what patients with TB look like and also of the institutions in which the patients were treated. We were shown a variety of photos of patients infected with different types of TB including the form known as 'Pott's Disease' which occurs outside of the lungs and is found in the vertebrae.
The photos demonstrated extremely misshapen spines and also a young boy with the appearance of a humpback. We were given a run-down of the different types of TB, and where in the body they are most likely to affect.
Rebecca clarified the difference between active and latent TB (which is a term I have occasionally come across in a patients' GP history) and also information about the multi drug resistant strains (MDR and XDR) which are extremely difficult to treat and pose the most risk. She also indicated the areas in the UK that are more susceptible to TB, such as densely populated urban areas like London and Birmingham, as well as countries with the highest estimated incident rates such as India, Indonesia and China. Overall we learned that TB is still very much an active threat to the Mortuary with approximately 1.8 million deaths worldwide.
Organ Donation – Kathy Rumbelow
The next speaker was Kathy Rumbelow who is a Specialist Nurse for Organ Donation (SNOD). Her presentation highlighted the extremely valuable service that organ transplantation provides.
We began by learning the shocking disparity between the number of patients waiting on the list compared to the numbers that were carried out. For example there are 6463 on the list and only 1926 have been carried out since 01/04/2017.
Kathy went into detail about the three ways in which a patient can donate organs:
After Brain Stem Death - This is where a person no longer has activity in their brain stem due to a severe brain injury. They have permanently lost the potential for consciousness and the capacity to breathe.
After Circulatory Death – This is the irreversible loss of function of the heart and lungs after a cardiac arrest from which the patient cannot or should not be resuscitated
Living Donation – Whilst you are still alive you can choose to donate a kidney, a small section of your liver and other tissues.
We learned that of the 500,000 approximate deaths in the UK each year, only 3,500 die in circumstances where they donate. However most of these other deaths can still go on to donate tissue such as skin, bone, tendons, eyes and heart valves which can improve the lives of many people.
It was interesting to learn that the team has to wait 5 minutes once the life support equipment had been withdrawn to check for spontaneous breath. I found Kathy's recollections of experiences with families during this section to be very powerful.
Kathy recounted a time when she asked an anxious family member to hold their breath as well during this 5 minute period. It made me realise just how difficult it must be to comfort the family member but at the same time know that you only have a short window of time in order to get the patient to the theatres.
It seems that the subject of organ donation can be a very tricky one to discuss, but from learning more about Kathy's role as a SNOD, it is definitely clear that there would be even fewer transplants taking place each year without their specialist procurement skills.
Corpses and Cat Videos – Dr Esther Youd
The final morning session speaker was Dr Esther Youd who is a Consultant Pathologist at The Royal Glamorgan Hospital. Her presentation focused on the use of social media within our profession. She started by defining the term and highlighting some of the most popular platforms such as Facebook, Twitter, Instagram and Snapchat and what they are predominantly used for. She focused on the positives that can be drawn from using social media which among many were:
Connect to like-minded people
Grow your professional network
Share thoughts and ideas about your profession
Public engagement – break down myths about the role
Teaching/ sharing educational materials
Examples were given of how people are using social media to promote their profession. These included a picture of a brain infected with meningitis on Instagram, showcasing a biomedical science day and sharing links to relevant news articles. Dr Youd herself has a twitter page where she promotes the pathology service and gets people talking.
This included examples of how social media can also be misused and could accidentally cause offence to the general public. Esther reminded us that we as APTs deal with death every day and that can cause us to unintentionally come across as derisory or flippant when we post things in relation to our job.
Dr Youd continued with regard to striking the right balance and ways to alter certain details like changing the age, sex and details or potentially identifiable cases and not to moan about being on call! We were reminded to familiarise ourselves with our employers code of conduct and that we can refer to the AAPT policy for use of social media for further guidance.
The morning was closed with the awarding of the RSPH level 3 diploma certificates.
I thoroughly enjoyed my first conference and felt like I learned a lot and met some wonderful people… roll on next year!