Exercise Unified Response
Sixteen Anatomical Pathology Technologists were involved in the response to the biggest victim identification training exercise seen in the UK.
Exercise Unified Response was a London Fire Brigade / London Resilience Partnership led major disaster exercise co-funded by the European Union. It was a test of the national and international response to a mass casualty, mass fatality disaster.
The scenario was set in Central London, but the exercise site was actually situated at Littlebrook Power Station near Dartford in Kent and was based on a building collapse over tube train tunnels. The collapsed building breaching the train tunnel while a train consisting of eight carriages was travelling through causing a large scale transport incident resulting in mass casualties, fatalities and disruption to services and utilities.
This tested various aspects of emergency response and involved the emergency services, local authorities, the National Health Service and many other multi-agency partners.
The National Disaster Victim Identification Unit (UK DVI) also secured European Union funding to run a mass fatality DVI element to the exercise.
DVI Scene Element
London Police Region DVI teams (Metropolitan, City of London & British Transport Police) worked at the simulated disaster scene alongside Fire Urban Search & Rescue (USAR) and Ambulance Service Hazardous Area Response Teams (HART).
The scene consisted of a simulated building and tunnel collapse that was constructed within an old power station building; this included a tube station ticket hall, barriers, stairs, tunnels and platform as well as the eight carriages de-railed and buried in building and tunnel rubble.

DVI Mortuary Element – National Mutual Aid
A temporary mortuary was constructed close to the disaster scene. Personnel from all 10 UK police regions supplied national mutual aid to the mortuary operation.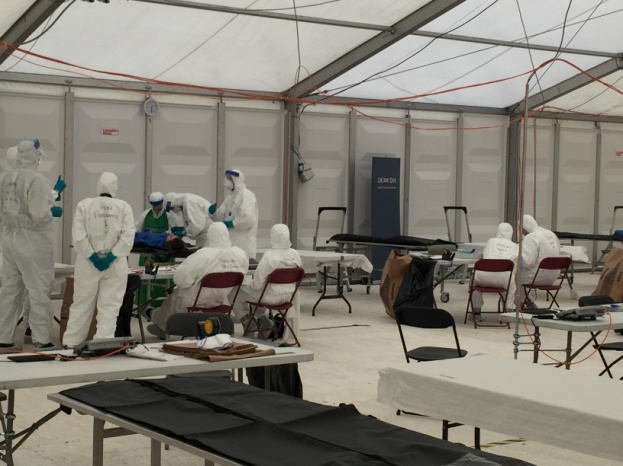 In addition forensic specialists and contractors contributed to the UK DVI capability and worked to support the mortuary operation.
DVI teams collected and recorded post mortem data from role players and mannequins within the temporary mortuary.
International Mutual Aid
International USAR assistance was supplied to London Fire Brigade via the European Union Civil Protection Mechanism. International DVI assistance was coordinated by the INTERPOL DVI Working Group. International mutual aid supplied by: Netherlands, Belgium, Luxembourg, France & Germany. There was also DVI personnel from Denmark, Spain, Italy & Cyprus.
The APT response
Jan Gibson from the Queen's Hospital in Romford was the nominated Lead for the exercise; she enlisted assistance from the UK DVI APT Cadre, Mike Conway and Dave Ridgewell as they had assisted her with a number of previous exercises.
Because the exercise was based in London the event organisers requested that London based APT's were targeted and requested to attend; Mr Conway contacted each DDM (Designated Disaster Mortuary) and Public Mortuary informing them of the exercise and requesting support from their APT's for this week long event.
Many of these mortuaries were short staffed or had limited staff to release for the event, (after all who would do the normal day to day work?) so a rota was drawn up and those nominated to attend were populated into it.
Representation from within London came from Queen's Hospital Romford, Haringey Public mortuary, St Pancras Public mortuary, Greenwich Public mortuary, Westminster Public mortuary, Uxbridge Public mortuary, Lewisham General Hospital, King's College Hospital, University College Hospital and the Royal Free Hospital.
There was also representation from Chesterfield Royal Hospital, Royal Berkshire Hospital and Flax Bourton Public Mortuary in Bristol; the last three representatives comprised three fifths of the Team managers from the UKDVI APT Team. (Mike Conway, Dave Ridgewell and Terry Venn-Adams)
Response Mortuary
A response mortuary was set up comprising of a temporary structure and included a PPE collection and briefing area, body reception and holding area, post mortem/DVI room complete with eleven post mortem examination tables and an area for odontology, photographic and exhibit tables and an area for safe undressing (PPE removal).
Incorporated into this was an corridor for 'visitor observation' as many national and international observers were allowed to visit and see the scene, rescue and recovery phases, casualty triage areas and victim identification processes.

The APT's in attendance worked with the Police DVI teams to ensure good compliance with personal protective equipment and the safety elements of mortuary work as well as helping and advising them with body handling and manouvreing, the strip and search process, external examinations, fingerprinting, describing the clothing and photography (positionoing of articles, URN and scales etc).
A number of the APT's had not met each other before and were new to the DVI process, but after a short brief from Mr Conway and Mr Ridgewell they soon gelled into the team structure and everyone was amicable and worked well together.
The victim identification process was carried out over four days and a total of 73 'deceased' were dealt with using the full DVI protocol.
Hot debiefs were carried out each day with a chance to reflect on the practicalities of the systems and processes being used; dynamic changes were introduced as necessary – one morning the clean/dirty line and 'one way system' for PPE had to be re-thought as one end of the structure became unstable due to high winds.
At the last de-brief on Thursday night the APT's received a standing ovation for all of their help and assistance during the exercise from the national and international Police Teams.
Mr M Conway FRSPH CSci MIBMS FAAPT
[UKDVI APT Cadre]
Service Manager – Mortuary, Bereavement & Post Mortem Examination Services
Chesterfield Royal Hospital - Chesterfield
Mr D Ridgewell FAAPT
[UKDVI APT Cadre]
Service Manager – Mortuary, Bereavement & Post Mortem Examination Services
Royal Berkshire Hospital - Reading
Mr T Venn-Adams FAAPT
[UKDVI APT Team – Team Manager]
Senior Anatomical Pathology Technologist
Flax Bourton Public Mortuary - Bristol