Second APT on the RSciTech Register
Gemma Norburn RSciTech MAAPT discusses the Science Council professonal awards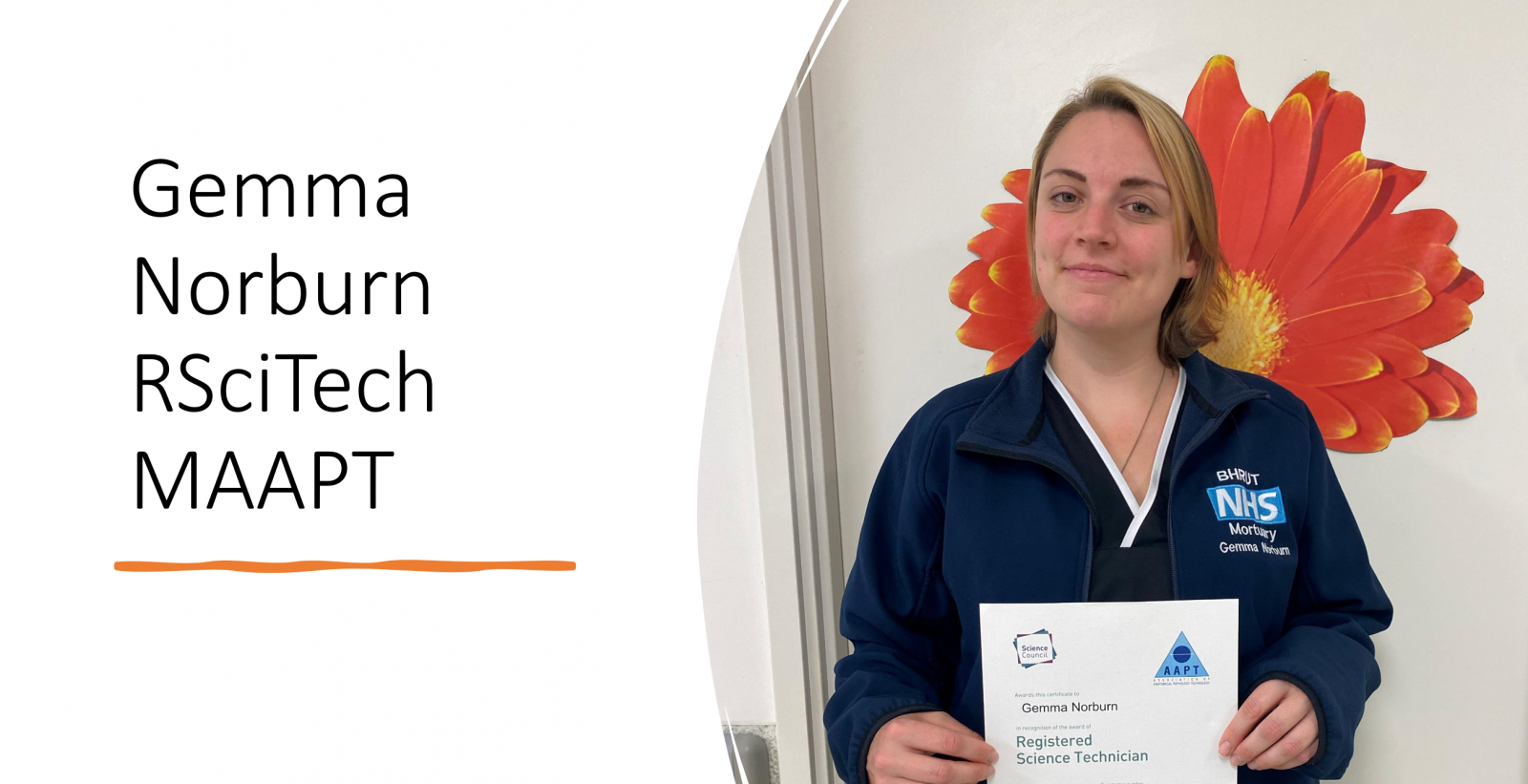 Gemma, congratulations on becoming the second APT in the UK to choose the AAPT as your Licensed Body with the Science Council. Did you find the on-line application process easy to navigate?
Thank you so much, I am delighted to have achieved this!
I found the application process simple; it is broken down into manageable parts which you can access individually and then go back to. The whole website is user friendly with clear instructions that you can follow. There was a technical glitch with the website when I used it, but I emailed the contact at the Science Council who was very friendly and helpful.
The AAPT provided guidance documents and other references within the AAPT website. Did you find these useful as you completed the application?
The documents online are great and detailed, they are especially useful when first approaching the application and to help get your head around what is needed. It's worth reading them through at least once all the way before beginning your application to make sure you know what is expected and needs to be completed.
The commitment to the standards expected of a Registered Science Technician (RSciTech) are considerable and provide parity for APTs with technical and scientific colleagues across the UK. Do you feel part of a wider community now?
Being able to align our work with other Registered Science Technicians is something that should be celebrated, and a great step towards being recognised in a similar way to those in different disciplines. By being able to do this it does make me feel part of the wider science community and feel like our work is becoming more visible in this community too.
The Science Council CPD standards are well matched with the AAPT CPD portfolio. Will you be using the AAPT on-line portfolio to demonstrate the CPD standards expected of an RSciTech?
My AAPT on-line CPD Portfolio formed a part of my application, I found the downloadable statement a great way of showing the work I have done and so useful to keep track of it.
As part of the application process, you can upload supporting documents to back up what you have written. I will keep using the portfolio to track this in line with what is expected of an RSciTech.
Would you encourage other APTs to start their application and what were your main reasons for applying to become an RSciTech?
I certainly do encourage other APTs to start their applications, especially as it is a huge bonus to have and is very straightforward to complete.
Professional registration has been an aim of mine for a long time and something I started to complete as soon as I finished my Level 3 Diploma. I can see the huge significance in more APTs becoming professionally registered, to increase awareness and respect for our profession.
Did you draw upon the knowledge gained from the Level 3 Diploma in Anatomical Pathology Technology?
There are parts of the Level 3 Diploma which help greatly with the application questions. The modules in Communication and Governance encourage us to think more about those aspects of our jobs and this can help with parts of the questions covering them.
The assignments and examinations allow us to write about our roles and think about how we can discuss them. APTs have a broad range of skills and expertise which we often do not acknowledge or recognise until we come to write or talk about our roles. The Level 3 Diploma is great at identifying the skills we have and empowering us in this way.
Any tips and hints for other APTs who wish to apply?
Firstly, if you are looking to apply then make a start!
Ten minutes a day can be all you need to work on this and there is a handy tracker to tell you where you are at with your application. I think that before you apply it can seem like a daunting process, but once you start you can see that it is not at all. I would also add that there are a number of people, including myself, who are happy to help with any advice on application so don't be afraid reach out to us.