Morning Report from AEE 2023
A report of the morning session of the AAPT AEE 2023 from Milina Caley MAAPT
On September 30th 2023, I was finally able to attend my first AAPT Annual Educational Event (AEE).
Having been in the mortuary for nearly 4 years, staffing issues and pandemic related problems finally subsided; meaning I could finally attend. The AEE is the perfect opportunity for APTs all across the UK to meet, catch up, learn, and share.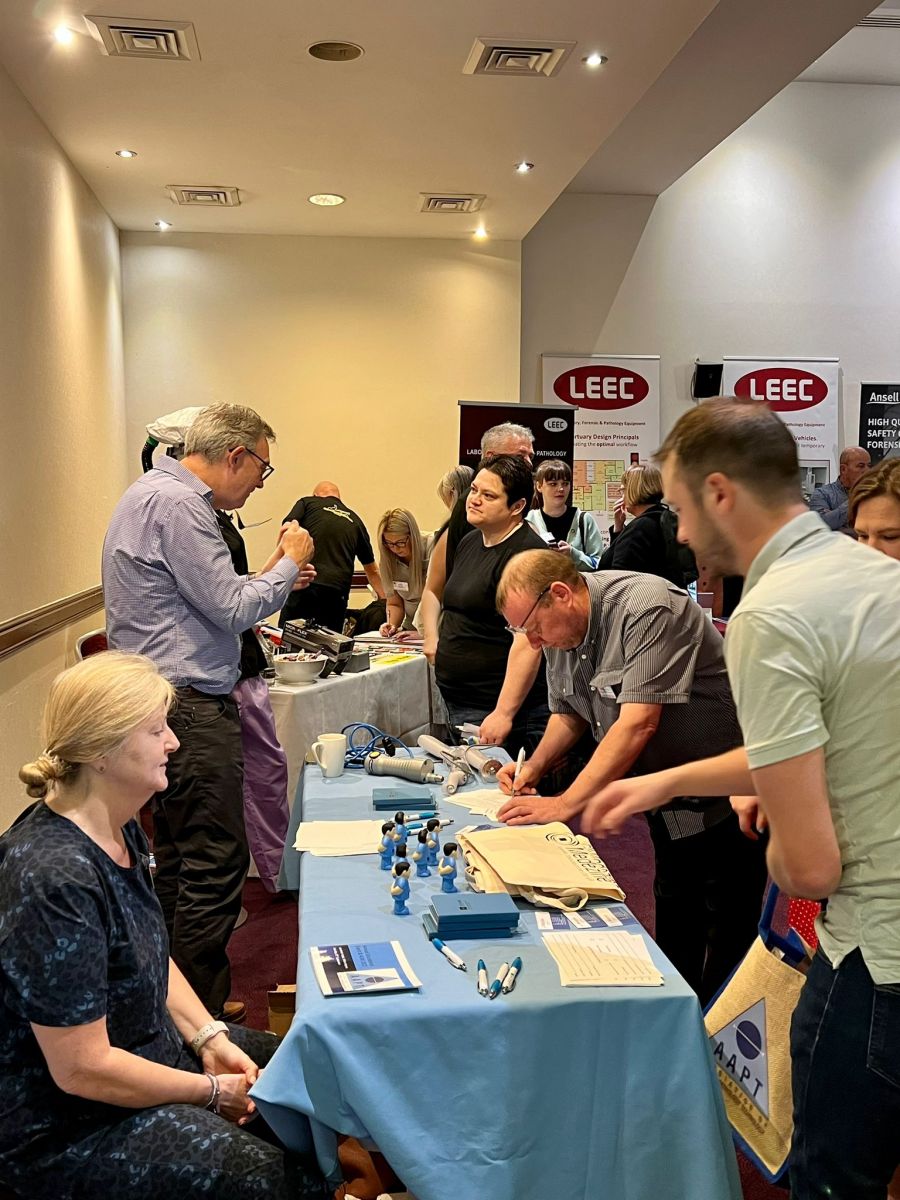 The morning started in the conference hall with registration, then everyone getting some time to view the commercial exhibitions and what up-and-coming technology/equipment is available. Shortly after, AAPT Chair John Pitchers greeted us with a brief welcome talk where he highlighted some of the positives and progress made in the world of APT over the last year. The chair of the morning session was Gemma Norburn RSciTech MAAPT.
The first talk of the day came from Dr Andrew Bamber, Consultant Paediatric and Perinatal Pathologist, and was titled 'Paediatric Post Mortem Examinations'. As an APT working in a Trust that does not perform paediatric or perinatal post mortems, I found his presentation to be utterly fascinating. Andrew began by explaining developmental abnormalities that can be identified at post mortem, providing examples of how we can recognise them in our own work.
He then provided a photograph showing a living child's injuries and asked us if we immediately assumed that neglect/abuse was involved; after which he revealed that it was his own child who had simply fallen onto the floor, the perfect story to emphasise how important context is in our line of work.
Also included in his presentation was information and relevant photo examples regarding evisceration and reconstruction techniques, something that I found exceptionally interesting, again due to my lack of experience with these types of post mortems. The presentation was wrapped up with some information on how Covid-19 and the subsequent pandemic affected the deaths of children.
He presented something interesting that I had not considered regarding Covid-19 related deaths, which was how there was a delay in diagnosis due to people's fear of hospitals during this time, ultimately resulting in an increase of what could have been preventable deaths. Dr Bamber's presentation was equal parts interesting and easy to follow, whether you routinely worked with paediatric post mortems, or were like myself with very limited experience.
The second talk of the morning was titled 'Death of an Astronaut – What Happens to the Body in Zero Gravity?' by Dr Suzy Lishman CBE, Consultant Histopathologist and Medical Examiner.
Her talk covered the topic of how the effects of zero gravity would appear during post mortem, or even how they could result in death. The hypothetical example provided was where a man who had lived in space for two years had returned to Earth and fallen over, ultimately resulting in his death.
Dr Lishman explained how disorientating the changes between Earth and space can be, and how your balance can be totally thrown, causing intense motion sickness and dizziness, potentially causing his fall.
Suzy also explained some interesting findings we may notice at post mortem as a result of being in space for an extended period of time. Some of these findings include: an increase of height due to no pressure on the spine from gravity; rapidly developing cataracts due to the radiation; and also the heart appearing more spherical, with the left ventricle not working as hard to pump blood and therefore displaying signs of muscular atrophy.
After a short break and chance to speak with others and reflect, the abstract sessions were up next.
There were two abstract sessions presented, the first on the theme of 'APTs of the World: UNITE!' by Meritxell Miret MAAPT, an engaging insight into how teh APT profession is regarded in other countries.
Meritxell worked as an APT in Spain which is one of the countries she discussed, where there is a requirement for a university equivalent qualification which gave them less pay than we have here in the UK. She also discussed Ireland and Australia along with others; weighing up the qualification requirements, levels of pay, and regulations.
The next abstract presentation came from Steph Wild who presented 'The Impact of Compassionate Care in Baby Loss'. Steph, Bereavement Consultant & Relationship Manager, delivered a presentation offering excellent advice on how to reassure families in their time of need, and offer genuine comfort and compassion, aiming to build some trust between families and mortuary staff.
Steph explained how some families may have preconceived ideas of us and the work we do, and that how we interact with families can make a huge impact on improving those interactions and hopefully bring more comfort to them during such an emotional time.
The final talk of the morning session came from Emma Sutton, the Pathology Quality Manager at Maidstone and Tunbridge Wells NHS Trust, and was titled 'Quality Cocktail'. Emma took a topic that we are all familiar with and gave it an interesting spin to further educate us on optimising our service and improving our quality management systems. I personally though her spider web analogy was excellent, making understanding CA/PAs and audits and their importance much simpler.
Once the final talk ended it was time for lunch, a catch-up with others, and to visit the exhibitions.
I thoroughly enjoyed my first AAPT AEE; from meeting new people and discussing ideas, to being able to learn so much about my career, all of it was absolutely brilliant. A huge thank you to everyone who organised this event and attended, it was an absolute pleasure to meet everyone and learn so much, see you next year in Glasgow!