AAPT Conference 2015: the afternoon report
Student member Ray Sassa gives his account of the afternoon at AAPT Conference 2015:
The afternoon session began with a roll of honour for those that passed the Level 3 Diploma in Anatomical Pathology Technology, and a certificate and award presented to newly qualified Nicky Wright, presented by the President of the AAPT Dr Michael Osborn.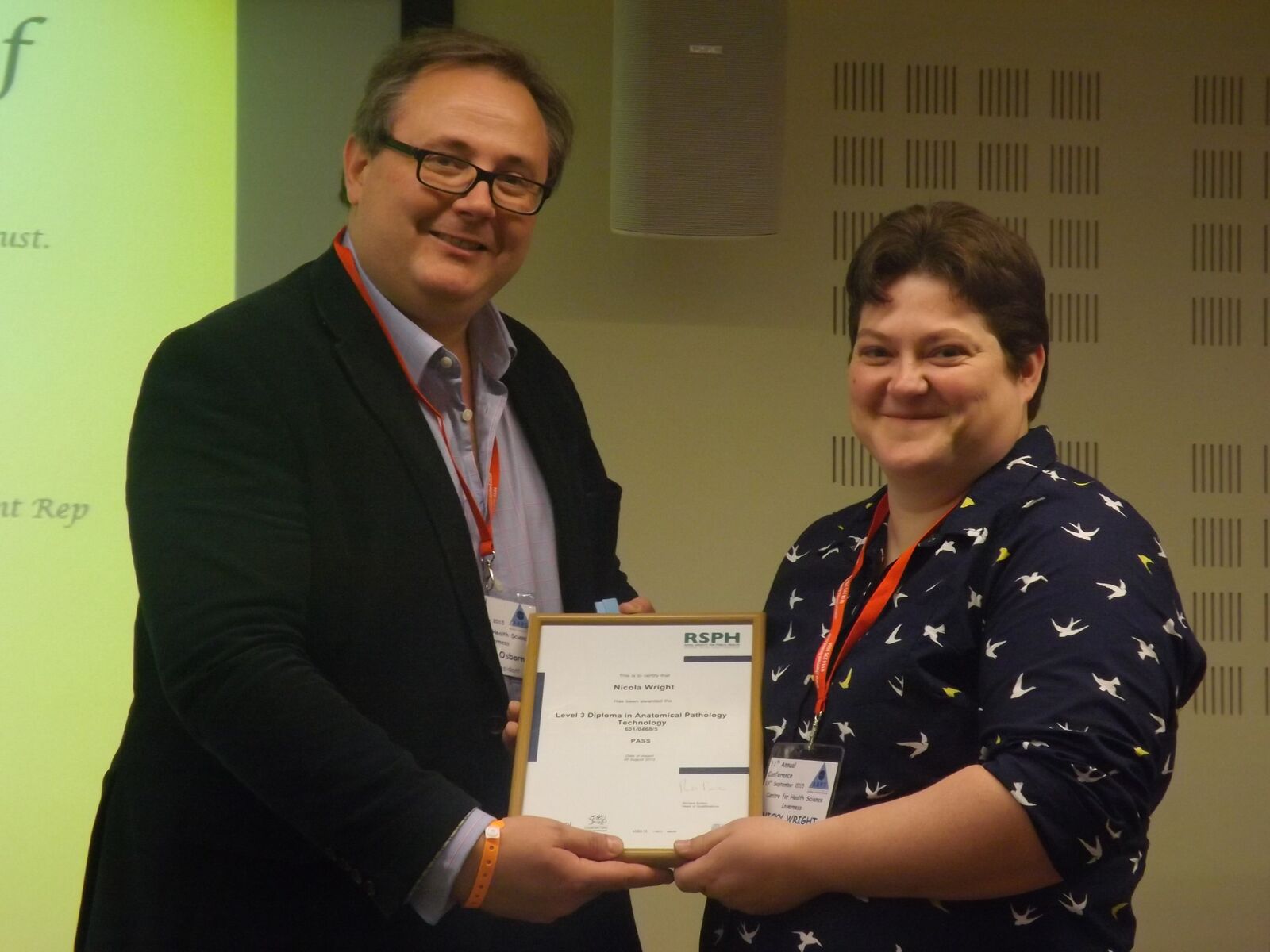 A special thanks and a gift of appreciation was given to AAPT member Michelle Lancaster and her team at the North Tees and Hartlepool NHS Trust for all their hard work in helping the trainees pass their APT qualification.
Paediatric Autopsy Neuropathology
Dr Simon Paine, Nottingham University Hospitals NHS Trust
The afternoon lectures commenced with an informative presentation in on Paediatric Neuropathology. Dr Paine asked who actually benefits from autopsies, and it's not just scientists, but families and society as a whole that benefits. Certain procedures need consent to proceed, such as requests for tumours to be removed, and in fact most families, up to 89%, give consent.
Dr Paine then explained the diagnostic processes in neuropathology, and detailed common clinical scenarios with real images. He explained foetuses with malformations, and infants with perinatal hypoxia, ischaemic brain damage, neuropathological disease as well as unexpected and suspicious deaths.
Dr Paine then spoke about techniques used in paediatric neuropathology, and emphasised the importance of correct skull removal procedure, and explained his own techniques, such as cutting from the top vertex and peeling of the occipital bone to get a posterior view. When there is thin fragile skin the head doesn't have to be opened; instead a small incision is made and a frozen section extracted – this to limit further damage to the head of the baby. He also mentioned about letting gravity help to remove the brain, as well as removing the brain in water as it acts as a support mechanism.
We then looked at some more cases, such as where a baby is born with an enlarged head; which could be a sign of a congenital brain tumour, which would be confirmed with an MRI.
A big spleen on a baby could indicate Gaucher disease, which is a genetic disorder, and would be diagnosed via mass spectrometry.
Adult Neuropathology was the next topic Dr Paine moved on to, in particular neglected areas, such as opening the dura and making sure not to overlook the superior sagittal sinus, and when removing the brain extra care must be taken to include and not damage the medulla and cranial nerves, as these are essential to a neuropathologist.
Dr Paine's lecture concluded with a short question and answer session, and one of the questions asked was how long a brain should be fixed for, and it's 2 weeks we were informed.
DVI – Role of the Senior Identification Manager
Mark Mackay, Chief Inspector, Police Scotland
The second lecture of the afternoon started with a brief history of UK DVI events from 1985 to the most recent in 2015, the Glasgow bin lorry crash. The UK DVI team was formed following the Tsunami in 2004.
The process of DVI is bringing the ante mortem and post mortem data together, which is done on pink/yellow forms. ID's are made by past comparisons or a series of eliminations. The Chief Inspector briefly went through the chronological procedure, starting with body recovery, to the setting up of a casualty bureau. The next step is gathering the ante mortem data, followed by the post mortems, and then the reconciliation of these. The challenge here is to match the yellow ante mortem forms with the pink PM forms.
Following this, the Identification Commission has the responsibility of examining all the evidence relating to identity put before it, and confirm or reject the identity of each victim. The commission consists of HM Coroner/ Procurator Fiscal, who usually chairs it, a lead pathologist a police senior identification manager, other relevant police personnel as well as other identification experts, for example odontologists, fingerprint experts etc.
Mr Mackay informed about primary and secondary identifiers; primary identifiers being odontology, DNA as well as fingerprints, which have been used for many years and are an internationally accepted method to conclusively, ID people. Secondary identifiers can include unique physical marks, scars and tattoos, property and clothing, jewellery and ID cards. These are used to support the primary identifiers.
He went on to highlight the importance of victim identification with a case of mistaken identity between 2 young females (Cerak and Van Ryns), after an RTA incident in Indiana, USA in April 2006. This illustrated how vital the process of victim identification is, and the additional grief it can cause families when mistakes like this occur.
It's the Code and that Counts
Professor James H K Grieve, University of Aberdeen
Professor Grieve started his lecture with a brief history of DNA in forensic investigations, and the use of DNA in forensics could have been used some 30 years before Alec Jefferies discovery; however the USA were not interested in it! We were then told about an infamous case where toy on an alien foetus was found in public, and was initially suspected to be a real baby foetus! As such the area where it was found was treated as an actual crime scene.
Professor Grieve spoke about the so called CSI effect – where shows on television show glaring mistakes and misrepresent forensics in the media, which was highlighted with pictures from shows such as 'Silent Witness'. He went on to emphasise on the protection of the crime scene and the prevention of contamination, even from our own DNA. This underlines the Locard principle – where all contact leaves a trace.
The retrieval of evidence should take as long as necessary as the body is not going anywhere – the body is murdered once, but the crime scene can be murdered thousands of times! It was stated that the mortuary can be recreated as a crime scene once the body is transported there – all the forensic capture can take place in the mortuary, and it should be done in exactly the same way as if it was done at the actual crime scene.
The Amanda Knox case was then briefly touched upon by the professor, and the Italian approach to crime scene management. This case illustrated the bad practices in gathering forensic evidence, and the repercussions of when there is doubt in the integrity of it. He then read a short extract from the Amanda Knox autobiography.
He then spoke about the importance of DNA in relation to sudden cardiac deaths, specifically genetic cardiomyopathies, as well as hypertrophic cardiomyopathy, dilated cardiomyopathy and ARVC. Currently, there is no legislation for diagnostic testing for these conditions, which there should be he says.
Professor Grieve then concluded his enlightening yet entertaining lecture with some quotes from some literature he has been mentioned in, such as in Dead Water by Ann Cleaves, which described the doctor as the 'small man!'
Forensic Fact Meets Forensic Fiction
Lin Anderson, Crime Author
The afternoon lectures concluded with some story telling by Lin Anderson, a former teacher of maths and computing for 20 years, and now an author of crime thriller novels. She spoke how and why she decided to change careers, and how she came about to create her most famous character in her books; the forensic scientist Rhona MacLeod.
As a teacher, she proclaimed she rarely watched anything that correctly depicted teachers on TV correctly, but dramatically made a good story. The same can be said for forensics shows and books. Crime novels can make the forensic world 'sexy and interesting'. She proceeded to read a fascinating excerpt from her book which kept everyone in the audience fully engrossed.
This then brought the academic programme to a close for another year. Dr Osborn then presented the CPD award certificates, as well as the trophy to the AAPT Conference Poster winner Paul Wright of Eastbourne DGH, and thanked all the guest speakers, the trade stalls and everyone involved in organising another fantastic conference. Eastbourne 2016 has a lot to live up to!