AAPT Chair Report 2022-23
The Chair of the AAPT, John Pitchers FAAPT, looks back on the last 12 months for APTs and ahead to the future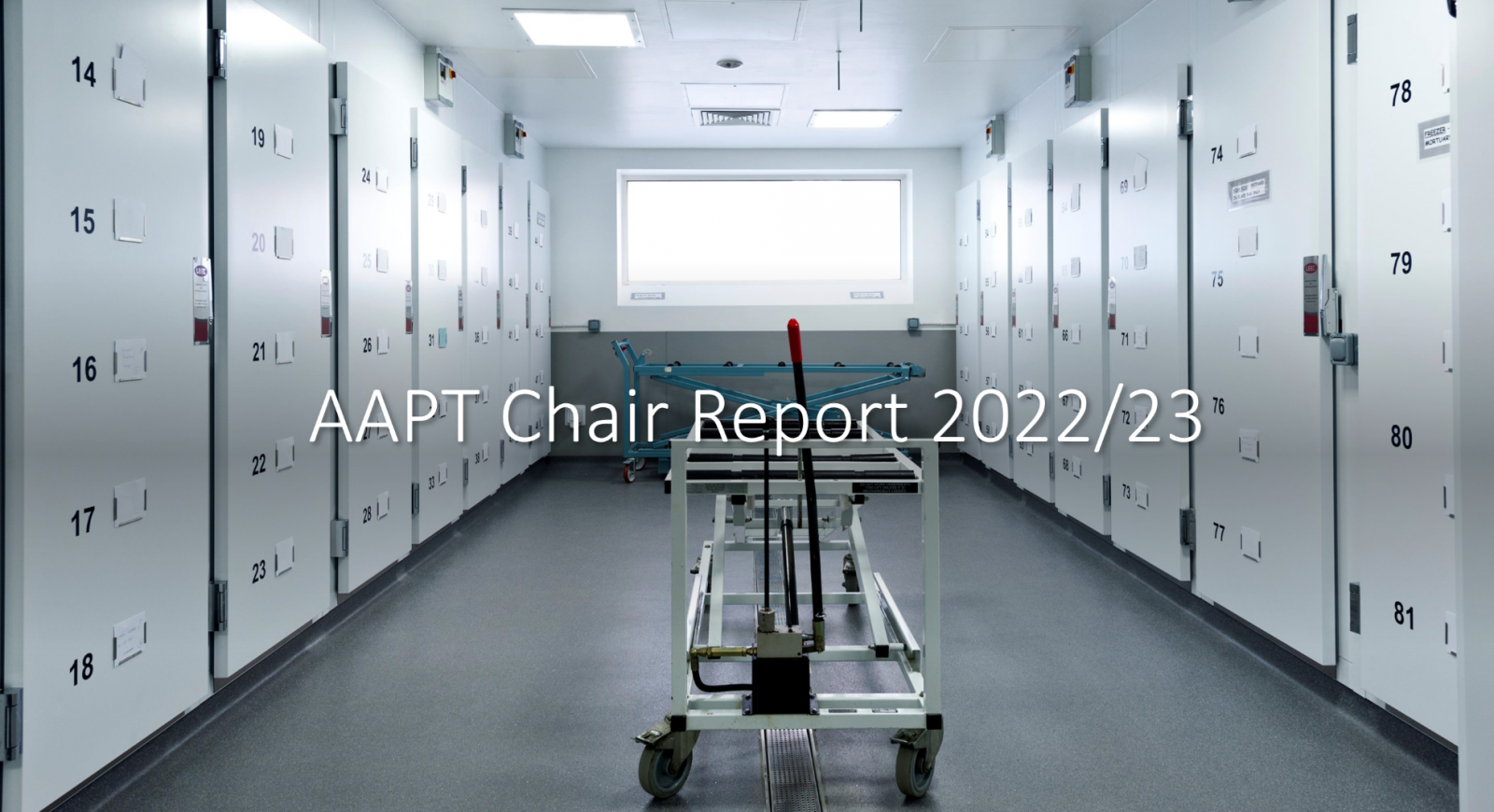 It's renewal time again, so it falls to me to tell you about some of the things AAPT has been doing over the last subscription year to look after your interests and advance the profession.
In a lot of ways, it's been another extraordinary year, but APTs have yet again demonstrated an unceasing dedication and passion for their work and the people it affects.
The SARS-2-CoV Pandemic
For a second year, AAPT members across the UK and beyond have been heavily involved in mitigating the effects of the COVID-19 pandemic on the death management process, and ensuring the deceased and their loved-ones are treated with humanity and respect; despite the increasing fatigue I know a lot of you are feeling.
Over the coming year, as we start to move to the recovery phase of the disaster, welfare will become increasingly important to you and the professionals you work with, and it's vital we all support each other wherever possible, including seeking professional advice where necessary – despite the nature of our work, APTs are not immune to secondary trauma and problems can arise, especially when other highly traumatic events are ongoing and risk compounding the trauma already caused by COVID, such as the abhorrent crimes committed in Kent by David Fuller, or the appalling invasion of Ukraine by Russia and the subsequent civilian casualties; graphic footage of which is freely available online. In line with our strategy, AAPT continues to look for ways in which we can support the wellbeing of APTs, and more information will be forthcoming soon.
Whilst there is not much research out there on the psychological impact of mortuary work on mortuary staff, studies have pointed to potential higher rates of secondary PTSD and traumatic stress (e.g. compassion fatigue, burnout, etc.) from the work.
If there are not avenues available to discuss and process the work, staff may develop coping strategies that, over time, make matters worse (such as alcohol and drug use). See here for a study on this subject you may find interesting.
Membership Fees
Membership fees will remain at the current rate, with no increases for any member grades.
Annual Educational Event
It was fantastic to have been able to hold the 2021 AEE in-person, and it was great to see so many of you at Tunbridge Wells, for what was a packed and very interesting lecture programme. My thanks go again to the organising team and our sponsors, without whom this event would not be possible.
AEE 2022 in Liverpool is shaping up to be an outstanding event, with lectures confirmed so far including Professor Lucy Easthope with Some things the APTs taught me: Reflections on a life in Disaster, and Professor Sebastian Lucas with HIV 1981 to Now: How Well Did Morbid Anatomy and Mortuary Staff Step Up to the Mark?
See here for a call for abstracts, further updates and booking information.
Education and Training
Again, delivery of the L3 and L4 Diplomas continues to move forward and we continue to engage with the centres and RSPH to provide practical assessment and independent scrutiny of the centre's assessment decisions.
This year has seen another programme of webinars, with titles such as Dicing with death: 5500 years of human dissection and the autopsy, A wartime mystery - the case of a lifetime, The Role of the Autopsy in the 21st century, and The purpose of an autopsy in the 21st century, all of which have been excellent.
We once again remotely delivered the sought-after AAPT Consent Training, and will be doing so again this year in April and we will continue to look for innovative ways in which to deliver relevant training to our members throughout the year.
Our progress in Science Council registration continues, with a total of four APTs now registered as Registered Science Technicians (RSciTech), and one as a Chartered Scientist (Csci). Start your journey here!
AAPT Strategy 2021-2025
After a COVID-related delay, the AAPT strategy (2021-2025) was successfully launched. Please take the time to read this publication, which lays out our priorities and work plan in all relevant areas of work.
Awards and Accolades
APTs continue to impress, with another healthy crop of nominations and awards that highlight the vital work you all do – check out the AAPT's Twitter feed (@AAPTTweets) for details of this and other important events!
Thank you all for continuing to support AAPT – as always, I am always happy to hear from members, so please feel free to drop me a line anytime at chair@aaptuk.org with any comments or suggestions.
Best wishes,
John Pitchers FAAPT FRSPH MIBMS MIHM
AAPT Chair