Royal Society for Public Health - Level 3 Diploma
APT History Makers via Level 3 top-up
Earlier this year 2 anatomical pathology technologists made APT history by becoming the first APTs to hold both the previous certificate and diploma qualifications and now also the new Level 3 Diploma in anatomical pathology technology; Sebastian Clark – Valmont and Teresa Ideson.
Sebastian and Teresa studied for the Level 3 Diploma with North Tees & Hartlepool NHSft.
Here they share about their journey into APT history!
Sebastian Clark-Valmont
I started life as an APT at the end of April 2007 as a volunteer in Weston-Super-Mare. My interest for the job came with a strong knowledge of anatomy already but the desire to find out what I was 'good at'. The staff that I worked with noticed my drive for the job and willingness to learn and decided to train me, ready for an interview as a trainee APT.
I worked at Weston for approximately 3 years, attending various interviews over the course of 2 of them. I remember in 2009 (I think) I had applied for a job in Derby as a trainee but due to a HR mistake, they did not confirm the interview date. I got a call that day from the Mortuary manager asking if I was attending the interview to which I had to decline very begrudgingly. The real heart break of that story was I remember him telling me 'that's a shame as you sounded like our ideal candidate'. That really upset me hearing that as I had tried so hard for 2 years for an 'official trainee post'.
My luck came in 2010 when I finally got an interview at Southampton. I got a call back a couple of days later to say I had got the job. I immediately told my manager and we had a nice 'heart to heart' about it. My manager at Weston was not just a boss and a friend but a real father figure to me and I knew, despite my drive for the new post, it was going to be very difficult to say goodbye.
I s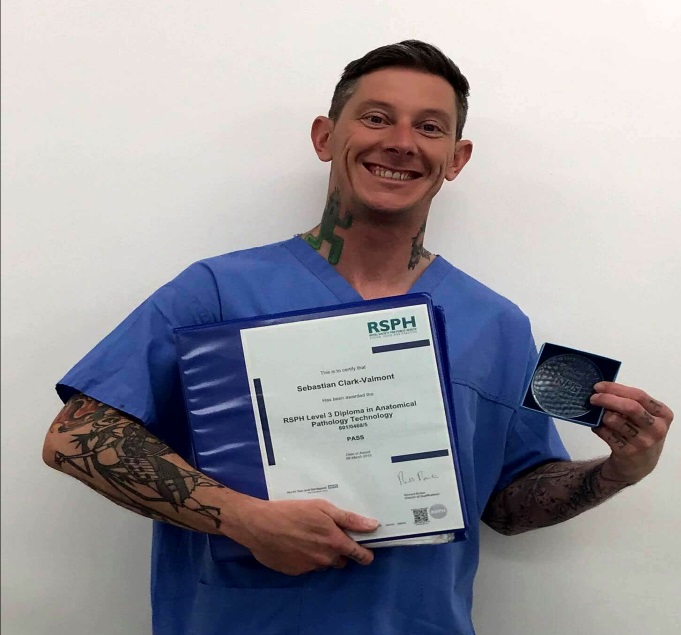 tarted my job in June 2010 at Southampton and was put onto the certificate course in the October of that year; attending the day release course on a Thursday. I learned so much from all the staff at Southampton. They were / are a very pleasurable group of APT's to work with, and without a doubt some of the most intelligent. They really gave me more of a drive to boost by knowledge of being an APT.
In December 2011 I decided to move back to Canada for personal reasons and tried to become a Pathologist's Assistant. That didn't turn out well as it turns out you need a degree in that subject. Everything happens for a reason right?
In August 2012 I moved back to the UK and signed up with Pulse to do some locum work. I got my first job in London in the November of 2012 in a public mortuary. I really enjoyed my time working there as the APT's I worked with are far in excess of experience than me and I learnt so much working, not just with them, but in the Public Mortuary setting also.
Fast forward a few months and I continued working as a locum in both the NHS and public mortuary settings. I was always fortunate enough to work with a great bunch of APT's that taught me things that I still do to this day.
During the time as a locum Mike (Elton) really encouraged me to start my practical assessment booklet for my Diploma. So… I applied for it. If it weren't for him I probably would not have been in any immediate rush to do it. I remember calling him when I was in Cardiff, about an hour before my exam, reeling off the HTA codes of practice and other things so it would stick with me. Mike really helped me a lot with things in and out of work and I really can't thank him enough for his guidance and wisdom.
By the summer of 2014 I was looking for a job that was more permanent. I applied for a deputy manager / senior APT role at West Herts and was lucky enough to get the opportunity. I had never been a 'senior' before so this was a big step up for me.
Being at West Herts I have seen a few people come and go and I think we have a very supportive team and management structure in place that wants individuals and actively encourages them to continue your own development. I have enrolled in various management courses with the trust which have been real eye openers but when the Level 3 top up came along I asked my Manager, Katie, if I could enrol. She didn't even think twice and supported me to do so. Really it is because of her and the continued support that I was able to get a place on the Level 3 Top-up.
I was a little bit anxious about starting the Level 3 top-up course but Michelle made it really easy and comfortable to relax and enjoy the learning. I knew the hardest part for me was going to be the Microbiology (P.S. Andrew Ward from North Tees & Hartlepool is simply amazing at teaching Micro and really makes it a fun experience!)
I would recommend this course to all qualified APT's that want to further their own learning.
The highlight of this course was, not just getting the Diploma, but when I received the phone call from Michelle to tell me I had passed and gave me my micro results… I had to ask her to repeat them as I was not expecting the grade (92%). I credit that score to Andrew and Michelle as it goes to show that with good teaching, some hard work and a little luck, you can really achieve anything if you put your mind to it.
Since starting life as an APT I have always enjoyed the post-mortem aspect; learning new techniques, making up new ways of eviscerating and teaching them to those that want to learn them. I have always had great mentors that, for the most part, have always encouraged me doing what I do and how I do it. I think my drive and passion to do this job has only come as far as the people that have encouraged me with it, and I owe them all everything to what I have become and why I still enjoy the job today. Everyday has its challenges, everyday can be positive. In one family's darkest moments, you have the option to be a small fraction of light for them.
Teresa Ideson
Hi, my name is Teresa Ideson I am an Anatomical Pathology Technologist at the Royal Victoria Infirmary in Newcastle upon Tyne Hospitals NHS Foundation Trust. I have been working in the Trust for 11 years. I started off in histopathology department in 2006 where I worked for a year as a Medical Laboratory Assistant, then applied for an APT role in 2008.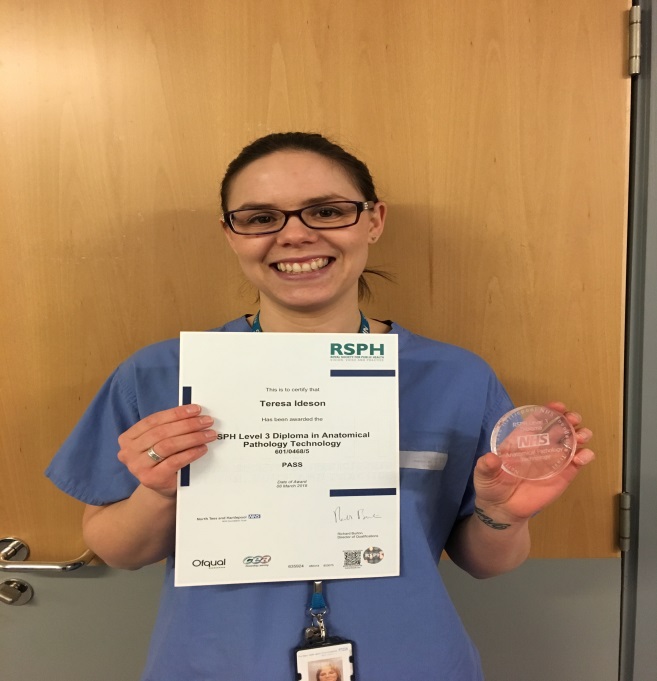 I knew I wanted to be an APT when I was lucky enough to be granted a work placement at South Tyneside District hospital mortuary when I was at college doing a National Diploma in Health Studies. I knew I wanted to work in the NHS but was unsure of what I wanted to be, I came across this job by chance and researched it, I thought to myself well I enjoy anatomy, science and how the body works and I enjoyed watching the TV series Silent witness and CSI (yes I know not at all like the job we do!).
My job involves working alongside many professionals such as the pathologist, chaplains, funeral directors and doctors and associated health care professions. I support grieving families as best as I can by helping them with their wishes for their loved ones, I've been involved in developing the service and standards which we afford to our families making memory bracelets which are given to families following a death.
I work within a team of 6 and we have two main sites Royal Victoria Infirmary and Freeman Hospital.
My keen speciality is Paediatric post mortems working alongside my colleague, Carole Ludbrook who was my mentor when I started. We ensure the Paediatric service runs smoothly and to a high standard always looking to see if we can improve our service as we go on. I am currently learning how to trim histopathology placentas with Dr Sri Annavarapu to help improve our Paediatric service.
I wanted to do my Level 3 Diploma as I felt it was in my best interest to have this qualification under my belt if I wanted to go further in my career as an APT, especially as I would like to be a manager. I enjoy learning new skills and gaining new knowledge – it helps me in my role by keeping my skills updated.
The team at North Tees & Hartlepool are absolutely delighted by the achievement of Sebastian and Teresa and are proud to have helped them in their journey to gaining the Level 3 qualification. They both worked extremely hard and deserve the recognition of being history makers!
APTs that hold the previous certificate & diploma qualifications can complete the "Level 3 Diploma" top up which consists of completing 2 of the 5 theory modules of the Level 3 Diploma in full and a portfolio of evidence for the 5 practical elements of the diploma. The programme takes approximately 6 – 8 months to complete.
The RSPH appreciate that certificate and diploma holders have previously undertaken extensive training in many of the components of the new level 3 diploma so award recognition of prior learning for anatomy & physiology, health & safety and governance & administration – this means that students on the top up must complete the microbiology & infection control and communication modules in full in conjunction with their practical portfolio.
North Tees & Hartlepool NHSfT are currently looking at dates for which the next top up course can be held, this is likely to be in November 2018 and usually held on a weekend – if you would like to complete the top up please contact michelle.lancaster@nth.nhs.uk as an expression of interest.