External Assessor Awareness Day
Today has been another milestone for the APT profession as the AAPT hosted an External Assessor Awareness day for those committing to becoming Assessors of the RSPH Level 3 Diploma in Anatomical Pathology Technology.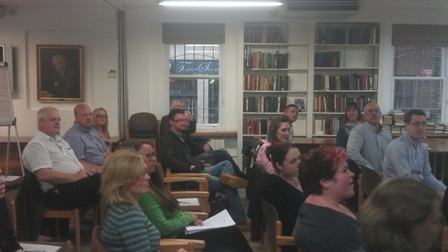 Training centres will be responsible for employing the use of external assessors directly – in return external assessors will have all reasonable travel costs reimbursed. There are no additional payments associated with this role, much like the IBMS model of external assessment however; as an external assessor you will obviously be entitled to valuable CPD points and have the opportunity to assist in shaping the future role of the APT in a positive way by ensuring mortuary practical standards are high and maintained. It is envisaged each Level3 Dip student will need no more than 1 or possibly 2 days of external assessment.
Assessors are required in every region of the UK and a list of those who have qualified to become assessors will be held centrally by the RSPH and the AAPT for centres to access.
Criteria for becoming an assessor:
• Qualified to current Certificate & Diploma level in APT with minimum 2 year experience at Diploma level
• Completion of this one day External Assessor course
• VRC registered - This can be completed following the course and guidance and support will be offered as part of the training day – (IBMS external assessors must be HCPC registered to assess BMS students - we need to be on par with their standards for credibility. VRC registration also covers training & development so is a great indication that an APT is actively participating in this area)