Mortuary Matters: National Medical Examiner system
The AAPT introduce a new website feature today: Mortuary Matters. On a regular basis, we shall pose a question or topic and ask AAPT members for their opinions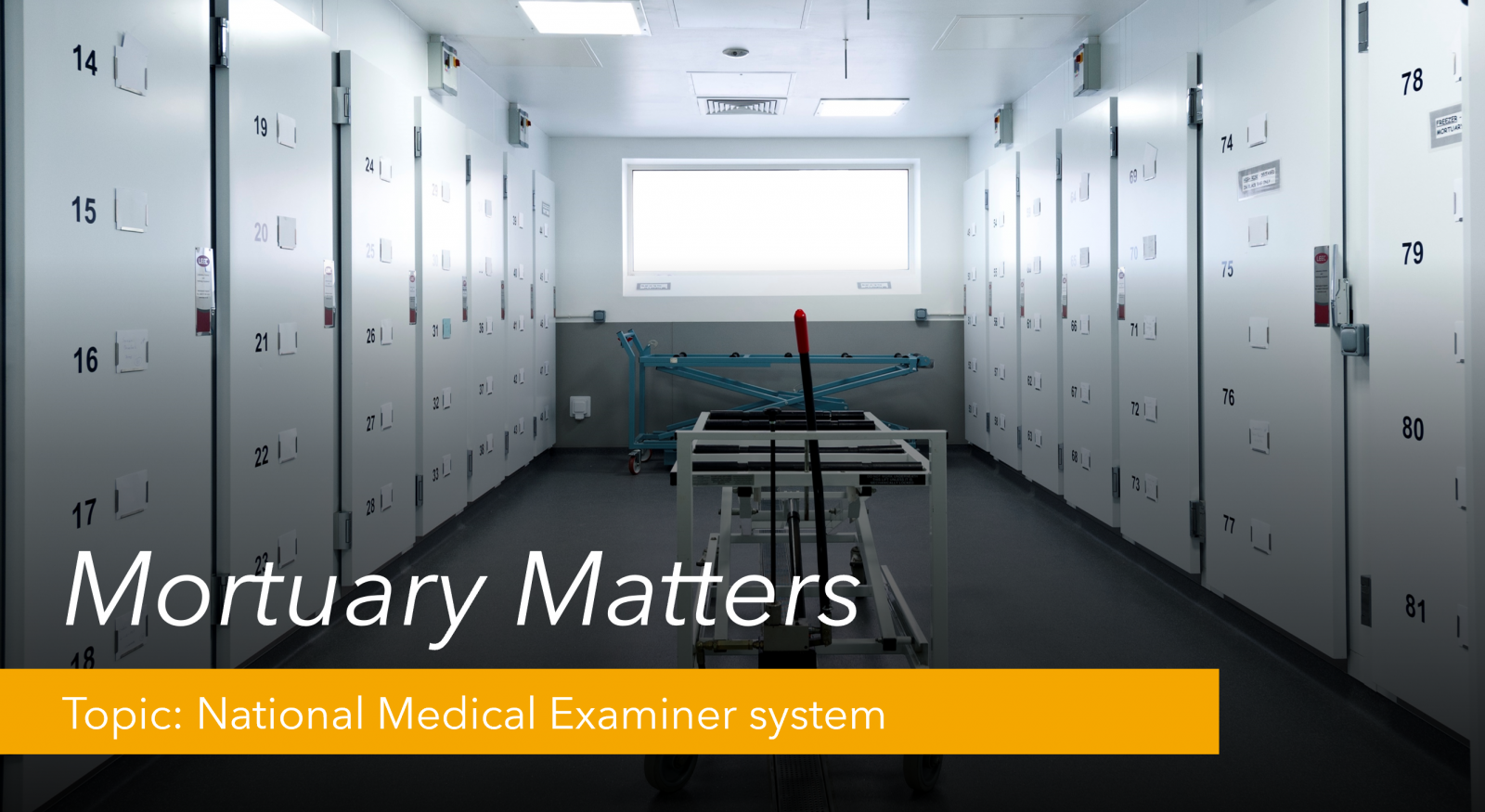 The viewpoints are personal and do not constitute an official AAPT statement nor are they an endorsement from the AAPT.
They are instead, an opportunity to generate discussion and debate within the APT community and wider stakeholder networks too.
The first topic is the National Medical Examiner system. The system was formally introduced in April 2019 with the aim of death certification reform.
For background reading, two useful links:
RCPath: Background to Medical Examiners
&
NHS England: the national medical examiner system
Mortuary Managers, Martin Goddard FAAPT and Simon Rolfe FAAPT, plus qualified APT Gemma Norburn MAAPT share their lived experiences of the national medical examiner system within a mortuary setting.
First off, Martin:
"The Medical Examiner team came into existence in my Trust during the early months of the pandemic.
I remember thinking at the time that this was going to have a significant impact on the length of time patients were going to remain in the care of the Mortuary and that there could not have been a worse time to roll this out. To my surprise and the ME team's credit this was not the case.
Much of the success came from the Mortuary's involvement in the planning phase and the continued meetings once the Lead ME was appointed. As we were able to work together, we both had a good understanding of the pressures each service was going to be under and what we could collectively do to ease the workflow.
The next problem that I encountered was the resignation of my Deputy Manager and one of the Bereavement Officers so that they could join the ME Service. This was bitter-sweet as although I lost 2 team members, I gained 2 MEOs that had direct experience of issues in Mortuaries caused by delays in issuing MCCDs.
So, it's all been walk in the park then? Well not quite.
It has been divisive with Bereavement staff seeing part of their job taken away from them and the ME service being employed on higher bands than they are. It's also forced us to work in a more disjointed way with less awareness about what is happening with people in our care. This problem spills over into Tissue Donation too as previously we would know if a case were due to be referred to the coroner's service or not thereby meaning we would have consent in our hands promptly.
We are now experiencing delays in receiving consent due to the National Referral Centre needing confirmation from either the ME service or the coroner as to the likelihood of a certificate being issued, the knock on? Staff are often retrieving tissue out of hours at the end of a long day. This is exacerbated by the lack of full time MEs and no out of hours service.
The ME service is in its infancy so these are teething problems and chances are they will work through as time goes on. Will it improve the experience of bereaved people? I think so, even if families don't want to discuss their loved one's cause of death or final care, they have at least been given the opportunity and that kind of autonomy at a time when everything else is out of their hands can only be a good thing.
I hope the lessons learned through scrutiny of patients notes will identify future developments in palliative care that will benefit both patients and their families. One thing is for certain, the key to developing any service is remembering it is part of a bigger system and the only way to successfully build that service is by working collaboratively with all of the other services that are involved in the system. In this case it's essential the Mortuaries, Bereavement services, Coroner's services and Medical Examiners all work together to achieve the same goal, the very best care of the deceased and their loved ones"
Simon, Mortuary Manager:
"We handle around 1500 hospital deaths a year.
We started with an ME trial several years ago, and although it followed the basic principle my feeling was it was little more than a glorified second part. Where that role was limited to around seven consultants. They did phone the families which is the biggest benefit. However, it's a long way from the ME role we now have, in the early days they wouldn't stay available and would want the B/O to phone them or find them when they were doing normal work.
As I say there is a great advantage of an ME discussing with the family care, and for the families to be able ask medical questions. On the one side there may be less complaints from families as their concerns can be discussed early, and it defiantly reduced the bounce backs from the registrars where families would then say for the first time, they had a concerns.
However, there have been a few cases, depending how the family were asked, may not of had questions before, but then say, "now you come to mention it….". There seems (I have no data) that there are less referrals to the coroner, and the corner agrees, but that's difficult to judge during COVID.
We have had to set up a diary appointment system for Dr to attend the bereavement and ME, and that seems best for all, Drs don't need to keep popping in and have a set time. The only issue there, when really busy we have more cases than slots, but that's partly lack of resources in staff and office space. There is a problem recruiting MEs in our trust interestingly none of the original MEs / second part Dr is now MEs. I don't believe the number of suggested MEs allocated for the number of patient deaths we have is enough, and as they work in different disciplines and have children at school there is often a lack of cover over holiday periods as they are away together. There seems to be a lot of pressures on the ME lead, to maintain cover.
They are now looking at taking work from the community which could add more strain. There was a disjointed approach where the ME and B/O were under different management but as they work so close together, this can make things difficult. This bereavement office has been taken away from the mortuary, but still is not linked totally with the MEs and I think that's a mistake and should be linked. There has been a lot of extra work that has overflowed from the ME role to bereavement, which has put extra stain on them but this maybe worse due to us only having the equivalent to 2.3 staff in the bereavement.
We use Eden, but any data base that manages patients is a massive advantage, and the MEs can dip in and out of that to save disturbing the B/O. For the last few months, we have had an MEO, a lot of their time seems to be taken up in collecting data, but they do assist the ME and pre read cases, but again we only have the one at the moment and no in fill when off, and that could be pushed to the B/O.
We still do not have a robust plan for quick releases, normally for religious reasons. The trust doesn't want to hold up the release due to lack of MEs, but on the other hand want 100% ME involvement, although stopped now I was working on a questionnaire of around 6 /7 questions the main one "do you have concerns in the care" just so we can start the ball rolling and not have the family raise concerns after the funeral and an ME would phone the family retrospectively. If we don't offer the same standard only because we are under pressure to release quickly, I feel we could fall foul here"
And Gemma, qualified APT:
"The Trust where I work is currently in the process of appointing and setting up the Medical Examiner team after the Lead Medical Examiner was appointed in June earlier this year. The aim is for it to be fully established by April 2022. So far, we have seen a minimal impact as they are reviewing a small proportion of deaths while this is being implemented, but I do have some thoughts on what benefit or impact it could bring going forward.
Previously if they wanted to discuss the death with the doctor it could be difficult, however the Medical Examiner system will provide someone with the time and the knowledge to have that conversation. I do overall see these changes coming in as a real positive and something which has been lacking for a long time"
Do you have a suggestion for a Mortuary Matters feature for discussion or wish to feedback on this article? Contact the AAPT by email