Mortuary Manager Honoured for Services to Bereaved
UCLH's mortuary services manager has been recognised with a leading industry award for outstanding service to bereaved families.
Barbara Peters FAAPT, who leads the team in the lower ground floor of University College Hospital, was presented with the award for best APT at the National Good Funeral Awards, an annual event to mark the work of those in the field.
She was nominated for "her sterling work in the field and her enthusiasm to educate all who come into contact within the industry. Her study days are always a big success, and her transformation of the mortuary services at UCLH in under two years is nothing short of awesome".
Barbara was presented with the award at the event in Winchester by actor Ian Lavender, best known as Private Pike in Dad's Army.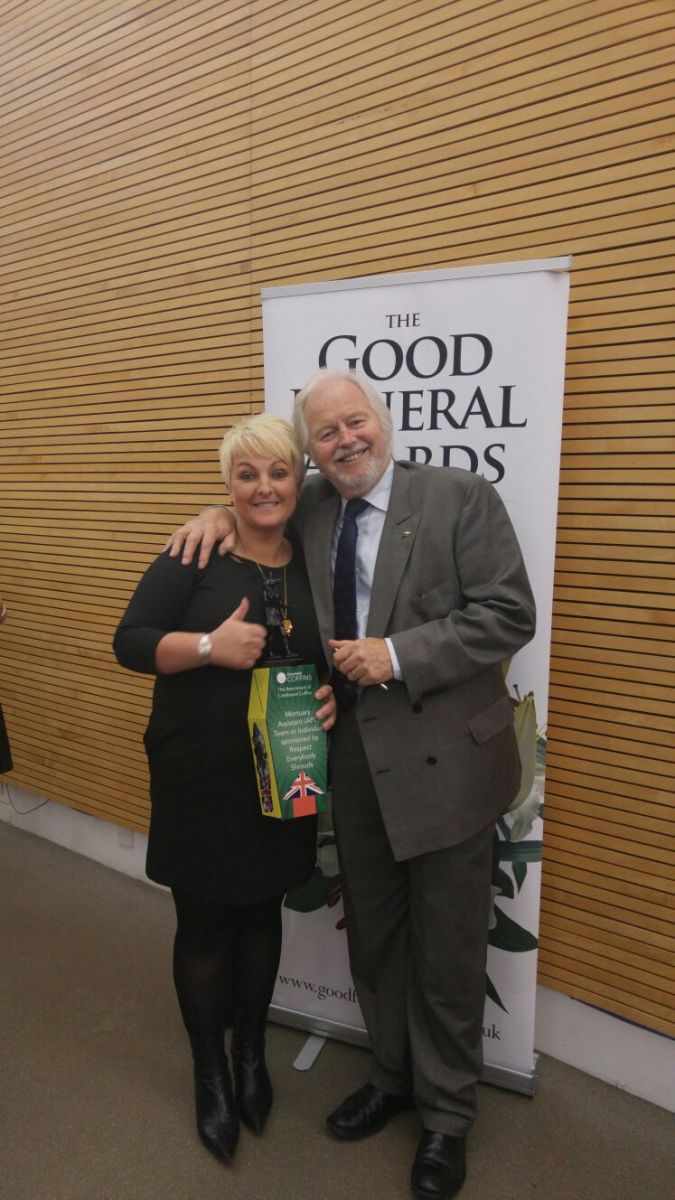 Since joining UCLH in 2013, Barbara and her team have worked hard to give the mortuary service more focus for the bereaved. Relatives' rooms have been made more warm and welcoming, and Barbara engages in a range of training activities to educate staff and partners about how they can provide a dignified service for patients and their families.
That includes training for nurses in personal care for the deceased, as well as presentations at study days throughout UCLH's hospitals and hosting training for the Metropolitan Police on post mortem examinations.
The award was sponsored by Respect Green Burials. This was the first time the Mortuary was part of the nominations, the sponsor felt that APT's need to be recognised for the hard work they put in. They are hoping to sponsor the prize for next year too.
Brian Jenner, organiser of the Good Funeral Awards, said: "The Good Funeral Awards recognise all those unsung heroes who work so hard for the bereaved and whose role can so easily be overlooked."
AAPT congratulates Mrs Peters on this outstanding award, which further raises the profile of APTs across the UK and beyond.