Dignity in Dying
With the introduction of a "Dignity Logo" as one aspect of Barking, Havering and Redbridge University Hospitals End of Life Care Strategy, Mortuary Manager and AAPT Fellow David King reports on how his team of APTs took an active role in embracing and facilitating a positive change in their area.
Floriography
The language of flowers, sometimes called floriography, is a means of cryptologic communication through the use or arrangement of flowers.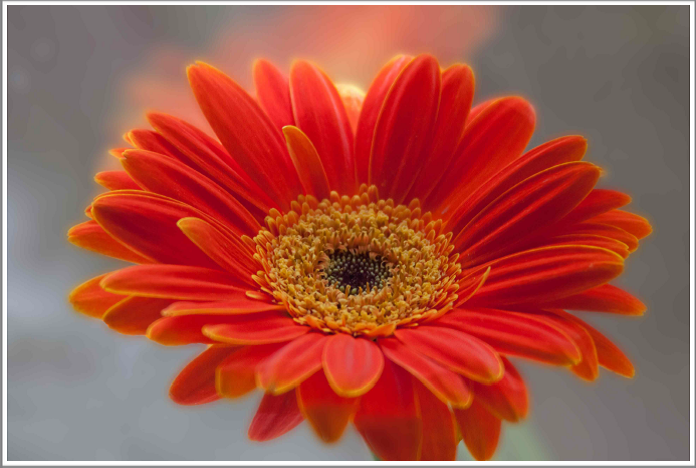 Meaning has been attributed to flowers for thousands of years, and some form of floriography has been practiced in traditional cultures throughout Europe, Asia, and the Middle East.
Mortuary Transfer: Perception of the traditional concealment trolley
The out of place, odd shaped trolley, with its electric blue tarpaulin, is no longer surrounded by the mystery and curiosity it once commanded whilst led by porters through hospital back corridors and service lifts.
Every so often, it would appear in an area of the hospital that didn't offer the privacy of the "trade-mans" entrance, and on lookers could all but hazard a guess as to what was taking place. Only the hospital aficionado and the bereaved those were present at the death of a loved one, were privy to the secrets of the concealment trolley, but that ship has since sailed.
With the rise in popularity of hospital based television programmes, such as Casualty and Holby City, their use of artistic licence and their attention to partially accurate details surrounding death processes, it wasn't long before the man on the Clapham Omnibus could spot it [the concealment trolley] from a mile off and think nothing of commenting "Look, there is the trolley they use to move the dead".
Yes, it serves a purpose, it is a practical piece of equipment, that can be cleaned with ease, it is load bearing and easy to operate. It offers a transport solution that maintains privacy and dignity for the safe and respectful, all important journey to the mortuary where the APTs will safeguard the deceased, and provide care after death, for the remainder of their hospital stay.
At Barking, Havering and Redbridge University Hospitals NHS Trust (BHRUT) we have embraced the Orange Gerbera Daisy as our dignity logo, which is used to identify end of life patients and all aspects of our palliative care. This beautiful flower not only has links to innocence but represents feelings of warmth, and conveys a message of kindness and friendship.
As a valued department that contributes to End of Life Care, we naturally wanted to embrace our dignity logo, after all isn't ensuring the deceased are treated with respect, and their dignity upheld the "raison d'être" of every APT?
The natural place to start had to be the concealment trolleys. There was nothing special or remarkable about them at all. We all felt that the equipment was primarily fit for purpose, but we felt it stuck out for all the wrong reasons, it didn't represent the way we feel toward the deceased in our charge.
We all got together (the End of Life Care Nurses, The Patient Experience group and the APTs) we measured up the trolleys so that we could have unique covers made and we chose our colours. We opted for a toned down blue, closer to navy, as a backdrop for our logo a stunning, solitary Orange Gerbera Daisy.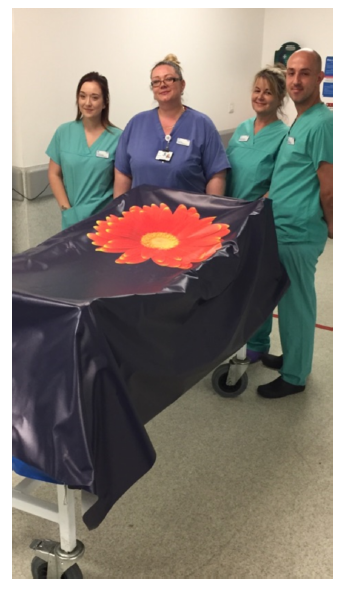 Our colleagues in Patient Experience worked on quotes and costings and the wonderful End of Life Nurses helped create a charity bid for funding. They bought us several covers for each hospital site, and we started using them straight away.
They are already a huge success; they do get attention, but this time, for the right reason. All the feedback has been positive. When people see the flower in our hospitals, they are more mindful and considerate. They too, like us, adopt a more dignified and respectful approach to death.
David King FAAPT, Trust Mortuary Manager, BHRUT, Queens Hospital, Romford