Renewal Message from Chair 2011
The annual renewal provides the opportunity to communicate with every member in what has, once again, been an eventful year for the Association and mortuary services. As ever, I thank you for your invaluable membership and support.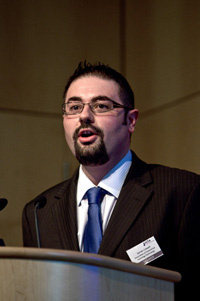 The annual renewal provides the opportunity to communicate with every member in what has, once again, been an eventful year for the Association and mortuary services. As ever, I thank you for your invaluable membership and support.
Against a backdrop of the Modernising Scientific Careers (MSC) project and nationwide financial constraints within the NHS and beyond, the Council have continued to represent the Association and its members through engagement with all known professional stakeholders. Our aims and objectives remain steadfast – in particular the desire for anatomical pathology technologists to become a fully regulated profession.
In order to achieve this critical milestone, the Council are in continuing discussion with the Department of Health and have recently drafted and submitted a detailed scope of practice for Anatomical Pathology Technologists. This is, of course, in addition to the comprehensive learning pack that has been approved by our colleagues at the Royal College of Pathologists.
This process may seem a long one and there will be many challenges ahead, but for any legislative regulation to be granted, a signature is required from the Secretary of State for Health. The Association will, therefore, continue to persuade and influence in order to achieve what is one of our core objectives. Articles have been published in the Royal College Bulletin and Institute of Biomedical Science Biomedical Scientist Gazette to bring regulation of technologists to the attention of pathology colleagues.
To aid this process the Association strongly recommends that its members apply to the Voluntary Registration Council for Healthcare Scientists. By becoming voluntary registered this reinforces the message that Anatomical Pathology Technologists are committed to accountability to a regulatory body and protection of the pubic. What at first may seem a daunting task can be tremendously fulfilling – Council members would be more than willing to assist any member with their application to the VRC.
Away from this key issue, the Association has been active in many other areas. Through discussion with the Health & Safety Executive, significant changes were made to Annex H of the Transmissible spongiform encephalopathies (TSEs) Department of Health guidance.
This provided the catalyst for change with regard to infectious cases and led to the formation of a subgroup, chaired by myself, to discuss government proposals in relation to death certification and the Medical Examiners office. The group has representation from all relevant stakeholders including the Coroners Officers Association, Bereavement Services Association, National Association of Funeral Directors and Health & Safety Executive. In Scotland we have been involved in Scottish Government Bereavement Guidance, and currently the proposed new Death Certification Bill and Fetal disposal Guidance. All this work has raised the profile of the Association across the UK and we have influenced the role of Anatomical Pathology Technologists in the mortuary and the wider healthcare setting. In 2011 we aim to maintain this high profile involvement with relevant stakeholders and forge relationships with others to further improve the Association profile with stakeholders.
In July 2010 Council agreed and launched a Code of Conduct for all Association members. A professional code of conduct is designed to ensure that all of those that practice the profession do so to the same standards. By having a code of professional conduct we can by definition call ourselves professionals. As a profession that aspires toward statutory regulation it is vital that we have in place professional standards that link in with the regulatory process.
This code of conduct applies to all members of the Association of Anatomical Pathology Technology who shall always:
• uphold the dignity and reputation of the Association by applying the highest standards of conduct, honesty and integrity in their personal and professional behaviour
• must exercise their professional practice and skill, within the agreed and known limits of their professional knowledge with judgement and responsibility
• Maintain, develop and keep up to date their professional competence and skills
• Observe the legal and ethical framework appropriate to their current and future roles
• Recognise the beliefs and values of the wider general public, the users of the service and professional colleagues, treating them on a fair and equitable basis
• Ensure their own beliefs and values do not prejudice or compromise their ability to carry out their professional roles and duties
• Educate professional peers, colleagues and the wider general public about anatomical pathology technology and its practice
• Promote the study and activity of anatomical pathology by promotion of the values, aims and objectives of the Association of Anatomical Pathology Technology.
A personal highlight for many Association members is the annual conference and AGM. In September 2010 this was held in Manchester and thank you to all that attended, networked with colleagues and witnessed a fascinating lecture programme. May I also express my gratitude to the commercial sector for their vital support in providing sponsorship for the event.
This year will see conference return to Glasgow – Saturday 17th September is the date to enter into your Association diaries. The planning committee are near to completing the lecture programme, and, as ever, please ensure to book early and visit the Conference 2011 domain of the website for updates.
Throughout 2011 the Association shall continue to work with colleagues within the Human Tissue Authority, Royal Society for Public Health, Royal College of Pathologists and all other stakeholders involved in mortuary service provision. The Association remains committed to improving the educational and practical standards for APT staff across the UK and beyond.
You will be pleased to note that the subscription fee has once again been frozen – and if you have taken advantage of the Introduce a Colleague offer you will receive 50% discount when the direct debit is collected early May. The renewal letter will be sent early March and should be returned to Christian Burt, Secretary, AAPT, 12 Coldbath Square LONDON EC1R 5HL.
On behalf of the Council I wish to express my best wishes to all those undertaking examinations in 2011 and please continue to support your professional body.

Kind Regards

James Lowell
Chair, AAPT Council