National Apprenticeship Week: Hull mortuary worker to be recognised at Ministerial event in London
A young hospital worker from Hull will be recognised by Ministers later this month as part of forthcoming National Apprentice Week celebrations.
Jordan Burn, a Trainee Anatomical Pathology Technologist (APT) with Hull and East Yorkshire Hospitals NHS Trust, was the country's first Mortuary Apprentice, and is one of just a handful of people to be invited to London to attend the special event.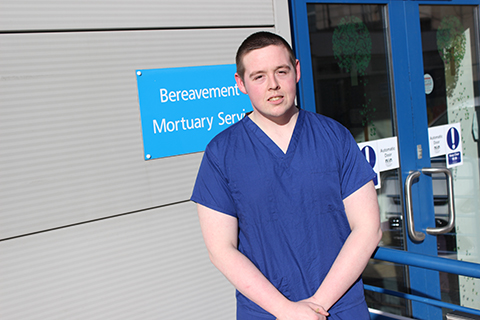 23-year-old Jordan began his apprenticeship in the Public Mortuary at Hull Royal Infirmary in October 2014. Prior to finishing his formal studies, Jordan freely admits that he had never considered such a career, but within a year of starting his apprenticeship at the hospital, he had already earned the title of 'Intermediate Clinical Apprentice of the Year' at the Yorkshire & Humber NHS Talent for Care Awards 2015.
Now, having completed his apprenticeship and gone on to secure a permanent job with the Trust, Jordan is working towards further professional qualifications and is serving as a role model for scores of other aspiring apprentices up and down the country.
It is for these reasons that Jordan has been chosen to represent the Yorkshire and Humber region at the Ministerial Event on Tuesday 15th March, which will see him rubbing shoulders with a host of MPs and other big names, including Minister for Care Quality, Ben Gummer MP.
Jordan says:
"I'm really pleased to be able to represent Hull and East Yorkshire Hospitals Trust and the Mortuary and Bereavement Services Team at this upcoming event. I'm hoping to make more people aware of what we do as a department, and what I and other Trainee APTs up and down the country do to contribute towards the service."
Jordan was chosen to represent the region by a panel of health education professionals from across Yorkshire and the Humber, based on both his personal attributes and his professional dedication.

Michael Holgate, Lifelong Learning Manager with Health Education Yorkshire and the Humber, says:
"At last year's regional Talent for Care Awards, Jordan really stood out from his peers. He was praised for his maturity, compassion, and sensitivity; qualities which are so important when you are working with people who are coming to terms with the loss of a loved one.
"Jordan is a great example of how apprenticeships can lead to really exciting and rewarding careers, and his success is just the kind of story we're looking to share during National Apprenticeship Week."
Jordan is one of 73 apprentices taken on by Hull and East Yorkshire Hospitals NHS Trust since May 2013, and they form a key part of the Trust's workforce development plans for the years ahead.
Anne Burdis, Education and Development Advisor for the Trust says:
"Lots of young people don't know what they want to do when they finish their studies. Many of them like the idea of working for the NHS but often aren't aware of the variety of opportunities that we can offer.
"We have been working since 2013 to create a broad-range of work-based apprenticeship opportunities for people. Roles have included office-based positions such as finance, IT, and administration, and practical opportunities within our estates department. We have also developed opportunities within areas such as pharmacy, neurophysiology, and medical elderly care. We are also in the process of developing new roles within dietetics and academic research, all of which make a daily, direct contribution to the care we provide for patients."
She adds:
"Jordan has been exceptional throughout his apprenticeship; he's been keen to learn, motivated, and ultimately he cares about people and about the role that he plays within the hospital. To see him achieve and progress onto further study is a credit to him and to Bereavement Services for investing their time and energies into apprenticeships."
Jordan will travel to London on Tuesday 15th March to attend the event and receive special recognition for his rapid progression through the apprenticeship route.