Council & Committees
The AAPT has a Council and Committee structure to support membership in professional and any other issues relating to anatomical pathology technology. In addition to the honorary roles of the President, Chair, Vice-Chair and Treasurer, ordinary Council members are elected each year at the AGM.
Each appointed Council member is required to be professionally registered with the ACHS or Science Council and to serve on Council for a three-year term of office.
Members can directly contact Council at a dedicated email address council@aaptuk.org
The Council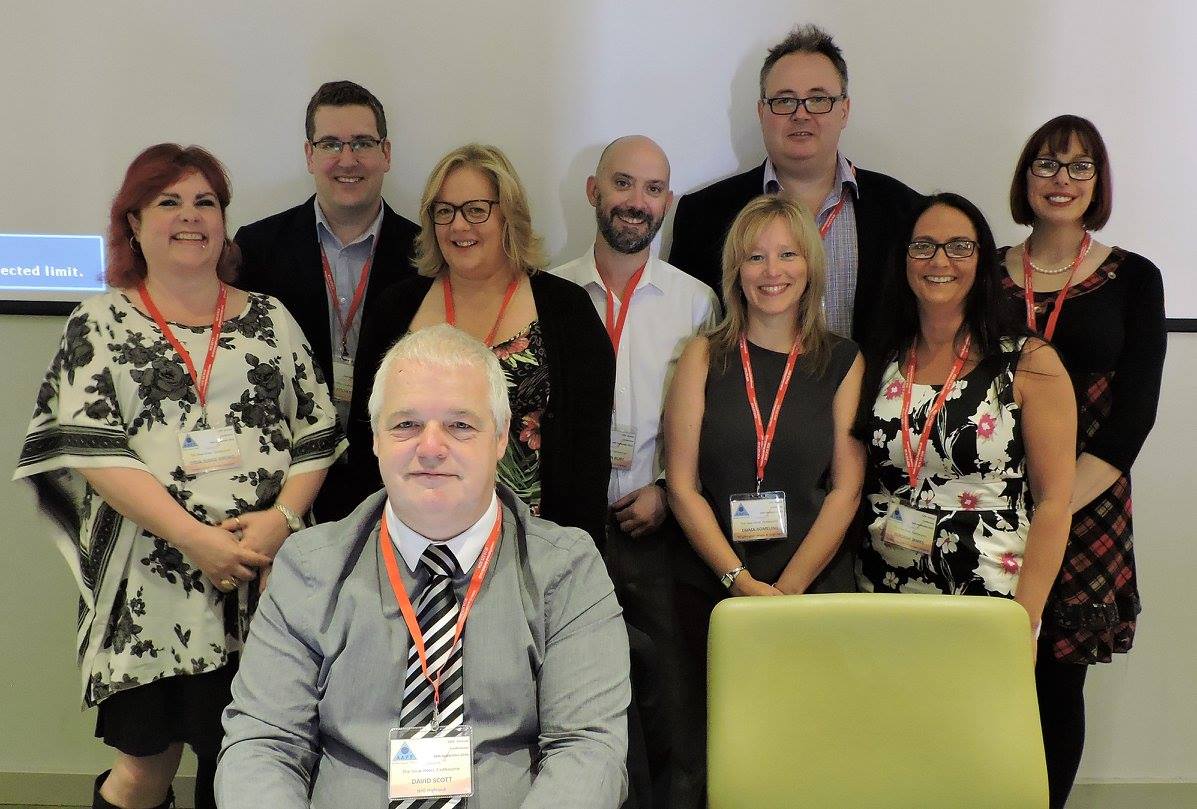 | | |
| --- | --- |
| Honorary Officers of Council | |
| Chair: | Ishbel Gall FAAPT |
| President: | Dr Michael Osborn |
| Vice-Chair: | John Pitchers FAAPT |
| Treasurer: | Debbie James FAAPT |
| | |
| --- | --- |
| Council | |
| Lydia Judge-Kronis | Re-election date 2021 AGM |
| Alison Anderson MBE | Re-election date 2021 AGM |
| Darren Makin | Co-opted member |
| Tarot Noble | Re-election date 2019 AGM |
| Gemma Norburn | Co-opted Student Rep. |
| Gemma Best | Re-election date 2019 AGM |
| Emma Romeling | Re-election date 2019 AGM |
| Sarah Davis | Re-election date 2019 AGM |
| Lakiesha Ward | Re-election date 2021 AGM |
Event Planning
Remit: Each year the AAPT host the AAPT Annual Educational Event with a trade exhibition and full social programme. The planning of such an event takes a huge effort and the AAPT is always looking for support from members to ensure a successful meeting. In 2018, the conference was held in London. In 2019 the event will move to Edinburgh. Suggestions for suitable speakers are always welcome.
Lead: Lydia Judge-Kronis council@aaptuk.org
Other Members:
Christian Burt
Emma Romeling
Deborah James
Education & Training
Remit: The AAPT is committed to help ensure and improve the educational standards for anatomical pathology technologists. Of major importance is the introduction of a new qualification fit for purpose and registration requirements and this is the main piece of work being undertaken by this committee. The Education & Training Committee also encompasses aspects of Continuing Professional Development (CPD) and professional publications (i.e. best practice literature)
Lead: Ishbel Gall council@aaptuk.org
Other Members:
Darren Makin
John Pitchers
Lydia Judge-Kronis
Emma Romeling
Emergency & Preparedness
Remit: This committee is primarily to raise the profile of anatomical pathology technologists with other professional groups involved in emergency planning and responding to emergencies. It also has a remit to recommend and assess professional standards when requested to do so.
This involves communication with the Home Office, deployment agencies and many other organisations. The committee also promotes relevant forensic and emergency planning courses that are available for anatomical pathology technologists to attend.
Lead: Alison Anderson alisonanderson3@nhs.net
Other Members:
Ishbel Gall
John Pitchers
Frances Ciardini
Human Tissue Act
Remit: This group has a very specific remit to help all members who have any questions relating to the Human Tissue Act and to assess the implications of the Act with regards to professional practice and make recommendations to the Authority with regards to codes of practice and APTs
Lead: John Pitchers council@aaptuk.org
Members:
Lydia Judge-Kronis
Tarot Noble
Sarah Davis
Professional Engagement & Communication
Remit: The remit of this group is to encourage membership and keep tabs on workforce planning issues. The Association exists to represent and support the interests of our membership, but also has a similar and very real responsibility to the profession as a whole and the group encompasses regional representation.
We believe that the way we communicate, both with members and non-members, is key to our success in the advancement and protection of the APT workforce, and the direction in which the profession develops in the future. The AAPT would love to hear from members who are keen to represent the profession at various forums.
Lead: John Pitchers council@aaptuk.org
| | |
| --- | --- |
| Members: | |
| Gemma Norburn | Student rep |
| Lara-Rose Iredale | London |
| Gemma Best | South West |
| Ishbel Gall | Scotland |
| Emma Romeling | North West |
Professional Registration and CPD
Remit: To promote the benefits of being a professionally registered anatomical pathology technologist. To liaise with organisations that hold professional registers, and to help member's through the application process. To work towards statutory regulation of the profession and to review standards of proficiency
Lead: John Pitchers council@aaptuk.org
Other members
Ishbel Gall
Lydia Judge-Kronis
Gemma Best
Christian Burt
Tarot Noble
End of Life Care
Remit: A working group to liaise with end of life care groups with regard to anatomical pathology practice and the care of deceased patients and their friends and relatives.
Lead: Tarot Noble council@aaptuk.org
Other Members:
Lydia Judge-Kronis
Ishbel Gall
Perinatal and Paediatric Steering Group
Remit: The aim of this group is to raise awareness of the perinatal and paediatric pathology speciality. The different processes involved in performing post mortems to the roles of the APT's involved.
Many mortuaries either undertake perinatal/paediatric post mortems or refer these cases to specialist centres.
This small steering group of specialised centres aim to create professional guidance and educational events for all APT's to access.
Lead: Sarah Davis – Birmingham Women's Hospital sarah.davis@bwnft.nhs.uk
Other Members:
Amy Lee
Lakiesha Ward
Lydia Judge-Kronis